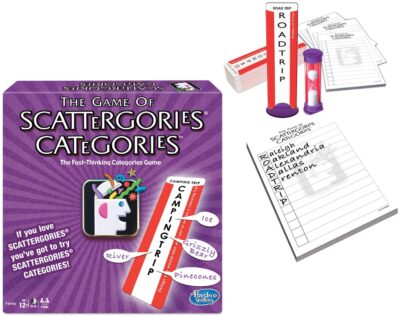 Bring something new to game night with Scattergories Categories for only $7.80. That's the lowest price ever!
THE GAME OF FAST-THINKING CATEGORIES: Since first hitting the market in 2010, Scattergories Categories has been entertaining quick-witted Scattergories fans everywhere with its fun twist on the original game.

HOW TO PLAY: This unique iteration of the classic game includes all new word challenges. Each round starts with a word and phrase. For instance, the card says "bottles" and "things made out of glass." You have two minutes to list as many things made out of glass as you can that start with the letters in the word "bottles." For example, "bowl" for "B," "orb" for "O," "teacup" for "T" and so on. When time is up, players compare their lists and get 1 point for each unique answer.

DESIGNED FOR EVERYONE AGES 12 AND UP: Scattergories Categories is designed for 2 or more players ages 12 and up. Game time ranges between 25 and 35 minutes. Perfect for family game night, games with friends, or as a great party game for groups of all sizes.

ABOUT WINNING MOVES GAMES INC: Founded in 1995, Winning Movies is a leading producer of iconic board games, card games, and handheld puzzles. With a talented group of designers, developers, and marketers, our mission is to provide happiness to consumers by offering classic, retro, cool, and fun games for play with friends and family.

PRODUCT SPECIFICATIONS: Scattergories Categories includes 125 cards containing 250 word challenges, 1 sand timer, 4 pads of player score sheets, 1 plastic card base, and 1 set of printed rules.
Remember, Amazon prices can change at any time.
This post contains affiliate links.