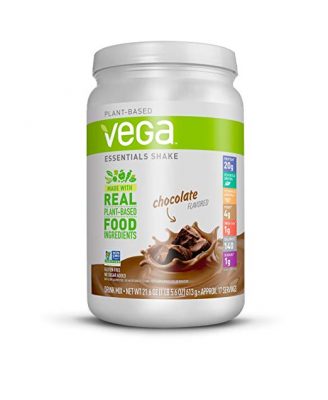 This is one of the best protein powders available and today you can save on Vega Protein Powders! Shake Vega Essentials in 1.5 cups water or non-dairy beverage, or add to a smoothie for a burst of energy and nutrients. Get the Vega Essentials Shake Chocolate(17 Servings, 21.6 oz.) for only $23.99 today!
#1 PLANT-BASED PROTEIN POWDER BRAND*

PLANT-BASED PROTEIN POWDER: 20g vegan protein from a multisource blend of pea protein, hemp protein, and flaxseed

YOUR DAILY ESSENTIALS: Take on the morning chaos with more than just protein powder. You'll get 25% DV of 12 vitamins and minerals in every serving

GREENS: Including ingredients like broccoli, kale, and spirulina

ANYTIME NUTRITION: Blend a serving of Vega Essentials with your favorite fruit as a meal replacement

OMEGA-3 ALA: Each serving of Vega Essentials Shake includes 1g Omega-3 ALA from flaxseed

NO ADDED SUGAR: Vega Essentials Shake is sweetened with stevia, our naturally calorie-free sweetener of choice. Try it in Chocolate, Vanilla, or Mocha flavor
CERTIFIED: Vega Essentials is non-GMO Project Verified, vegan certified, low-glycemic, gluten-free, and without dairy or soy ingredients

*Based on sales data, dollar basis, U.S. market
This post contains affiliate links.