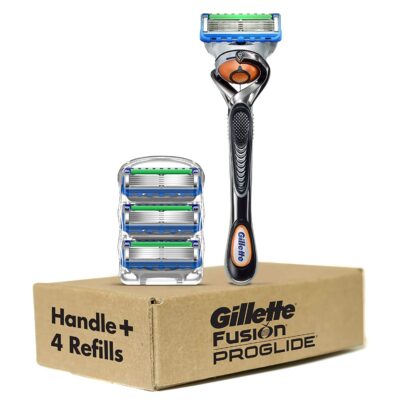 Today only, save up to 40% off on Gillette, Venus, & King C Gillette razors & beard care. How long a razor blade refill lasts is dependent on many variables such as beard toughness and thickness, beard preparation, shaving habits, and skin sensitivity. The Gillette ProGlide's reformulated Indicator Lubricating Strip (vs. Fusion5) will provide you with a visual cue — it fades to white — when optimal shave conditions have been reduced. When this happens, you might want to consider changing your razor blades to get an optimal shave. Click here for the Gillette ProGlide Men's Razor and Razor Blades, Handle plus 4 Blade Refills, only $15.36. 
REFILLS FIT ALL GILLETTE 5-BLADE RAZOR HANDLES (excluding GilletteLabs)

5 ANTIFRICTION BLADES Gillette's best blades for a close shave

ENHANCED LUBRASTRIP (vs Fusion5) with more lubricants adds comfort and glide

UP TO 1 MONTH of shaves with each refill

Formerly called Gillette Fusion5 ProGlide

MICROCOMB helps guide hair to the blades

PRECISION TRIMMER on the back for hard-to-reach places and styling
This post contains affiliate links.