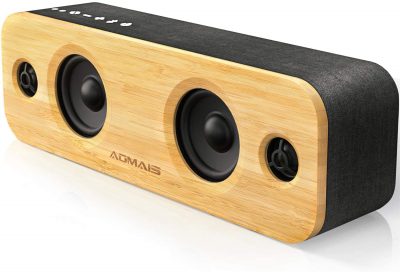 Bring back the sound with today's deal: Click here to save up to 36% on AOMAIS Bluetooth Speakers. Choose from eleven different options, starting at under $25! Using Imitation Bamboo made front baffle & rear trim and deluxe rewind fabric covering, AOMAIS Life bluetooth speaker can eliminate bad resonance,and harness the superior acoustic properties of to create clear and nature sound,environmental health, more shocking. Get the stylish AOMAIS Life Bluetooth Speakers, 30W Loud Home Party Wireless Speaker, 2 Woofer & 2 Tweeters for Super Bass Stereo Sound, 100 Ft Bluetooth V5.0 and 12-Hour Playtime Subwoofer [ Imitation Bamboo Panel ] for only $47.99 today. 
【SUPERIOR SOUND QUALITY WITH RICH BASS】Can Bluetooth speaker with only two drivers satisfy your love of music? I recommend the new AOMAIS 30-watt Bluetooth speaker has unique 4 drivers, two high-output woofers, two tweeters and a powerful amplifier,which make the sounds warm and natural.In addition the exclusive BassUp technology for enhancing bass, bring you a impressive bass experience!

【Fashion Home Party Speaker Design】Using Imitation Bamboo made front baffle & rear trim and deluxe rewind fabric covering, bringing you a nice aesthetic than other traditional metal or plastic speakers on market,which matches seamlessly with the texture of your wood furniture around your house.

【EXCELLENT 100 FOOT BLUETOOTH RANGE】Play up to 100 feet away from your device; our advanced antenna design with Bluetooth 5.0 provides a fast connection and incredible wireless Bluetooth range of up to 100 unobstructed feet from your iPhone, iPad, Mac, Samsung Galaxy, Smartphone, Laptop, or Tablet. Connects quickly and easily and maintains a stable connection.

【LONGER PLAYTIME & POWER BANK】The home speaker's built-in Li-Ion 5000mAh rechargeable battery up to 12 hours of playtime and a quick charge in just 3 hours with the included power cable. The speaker charger can also be used on other AOMAIS speakers, tablets, or cellphone in a pinch, so no need to worry about your devices dying while you enjoy your music.

【TRUE WIRELESS STEREO FUNCTION】 30W volume level not enough? Pair any two AOMAIS Life home speaker, and you can achieve high-quality 60W stereo surround with left and right channels between the speakers. A perfect gift for the music lover with an active lifestyle.Please note: previous life speaker Bluetooth version is 4.2, which cannot be wireless stereo pairing with the current Bluetooth version 5.0
This post contains affiliate links.