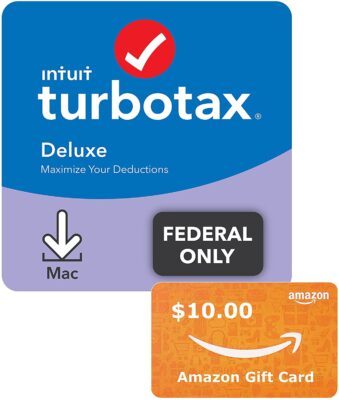 TurboTax is tailored to your unique situation. It searches for hundreds of deductions and credits and handles even the toughest tax situations, so you can be confident you're getting every dollar you deserve. Guidance and support to get your taxes done right! Save up to $30 on TurboTax and get a $10 Amazon Gift Card today. 
Buy the TurboTax + Gift Card bundle on 11/22 and get a $10 Amazon Gift Card with your purchase of TurboTax

Recommended if you own a home, have charitable donations, high medical expenses, or only need to file a Federal Tax Return

Includes 5 federal e-files. State download and e-file additional. Free U.S.-based product support (hours may vary).

Get your taxes done right and your maximum refund

Maximizes 350+ deductions and credits

Up-to-date with the latest tax laws

Easily imports W-2s, investment & mortgage information from participating companies (may require free Intuit account)
This post contains affiliate links.