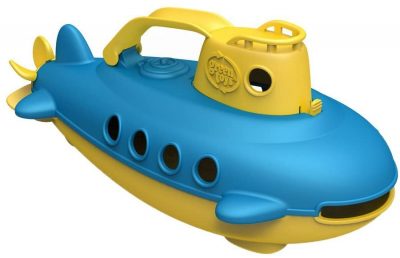 If you have young kids to shop for spring, this sale could be all you need. Today only, save up to 30% on Green Toys! Green Toys are BPA free and phthalate free and most importantly, kids love them! Get the Submarine in Yellow & Blue for only $7.39. 
Safe Watercraft: this pool toy is made using 100% earth friendly material like plastic milk jugs. It contains no BPA, Phthalate and is PVC safe. It meets FDA standards to offer safety even when your toddler happens to lick it

Easy to clean: the toddler toy can be conveniently cleaned. Cabin of this submarine toy can be opened for easy cleaning and is dishwasher safe. This toy can be easily cleaned using baby soap or a shampoo

Pool Playing Toy Use: this water toy will help your kids or toddlers explore the terrain at the bottom of their tub. It will also help them enjoy their nautical journey. Wide mouth opening will allow the kids to enjoy scooping and pouring

Toy Submarine Features: pool toy highlights a spinning rear propeller with flat bottom to offer stability. It features a classic handle that will help your kid to maintain a strong grip that may also help in improving their pincer grip

Earth Friendly Packing: even the packing has been done using earth friendly materials. It is packed using recycled materials and printed using soy inks — a crucial step towards safety of environment

Made in the USA from 100% recycled milk jugs

US supply chain reduces greenhouse gas and saves energy
This post contains affiliate links.