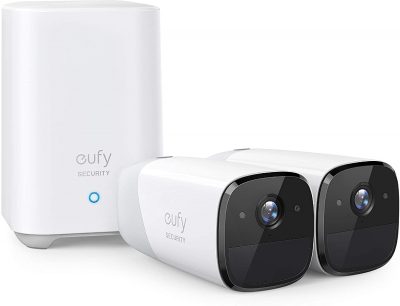 Every eufy Security product is engineered to ensure your security data is kept private. Have peace of mind that you will have a secure record of everything that happens around your home. Without cords or wires of any kind, eufyCam 2 installs in-doors and out with ease to surveil your home for 365 days on a single charge. Click here to Save up to 30% on eufy Security eufycam 2.
1080p Full HD: Live-stream and record footage in crystal clear 1080p HD, so you see exactly what is happening in and around your home

A Year's Security from 1 Charge: Avoid frequent trips to charge the battery and enjoy 365-day battery life from just one charge

Zero Hidden Costs: Designed to protect your home as well as your wallet, eufyCam 2 is a one-time purchase that combines security with convenience

Advanced Night Vision: The state-of-the-art Sony sensor allows for detailed recordings and streaming in low-light scenarios

Ready for Any Weather: With an IP67 weatherproof-rating, eufyCam 2 is built to withstand the elements
This post contains affiliate links.