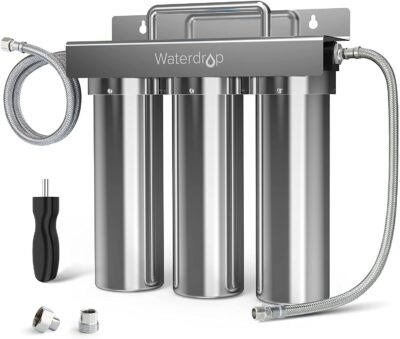 Clean water makes all the difference! Today only, save Up to 23% off Waterdrop Water Filters. This under sink water filter lasts up to 2 years, which means you don't need to replace it frequently. PP filter lasts 6-8 months, UF filter lasts 12 months and CT filter lasts 12-24 months, which may vary according to local water quality. You only need to replace the inner filter only, saving you money and efforts while protecting the environment. Get this Waterdrop TST-UF 0.01μm Ultra-Filtration Under Sink Water Filter, Stainless Steel Water Filter for Sink, 5X Service Life, 99.99% of Contaminants Larger than 0.01μm, USA Tech (3 Filter Included) for only $149.99 today!
【𝐒𝐞𝐥𝐞𝐜𝐭𝐞𝐝 𝐦𝐚𝐭𝐞𝐫𝐢𝐚𝐥𝐬】Waterdrop adopts lead-free 304 stainless steel material, which makes the water filter for sink resistant to corrosion and compression. The system is durable, strong, and less prone to cracking, thanks to minimal lead and cadmium content. The thick sealing ring in the cap prevents leakage. Kindly reach out to us if you experience any issues. Our premium after-sale service is available to help out at all times within three years of purchase.

【𝐄𝐟𝐟𝐢𝐜𝐢𝐞𝐧𝐭 𝐟𝐢𝐥𝐭𝐫𝐚𝐭𝐢𝐨𝐧】This Waterdrop stainless steel under sink water filter has 6 layers of premium filtration material. The 0.01 μm precise ultrafiltration membrane filters out most harmful substances larger than 0.01 μm. The activated carbon block and PP cotton effectively reduces chlorine, heavy metals, chemicals, cyst, odor, rust, and large particles in your water, while improving the water taste.

【𝐑𝐞𝐜𝐲𝐜𝐥𝐚𝐛𝐥𝐞 𝐡𝐨𝐮𝐬𝐢𝐧𝐠】The recyclable housing design reflects our commitment to protecting the environment. You don't need to replace the stainless-steel housing. Once the filter expires, just replace the inner filter and that's all. PP filter lasts 6-8 Mths, UF filter lasts 12 Mths and CT filter lasts 12-24 Mths, which may vary according to local water quality. Longer lifespan reduces how frequent you replace it. It ultimately helps to save money, while protecting the environment.

【𝐅𝐚𝐬𝐭𝐞𝐫 𝐰𝐚𝐭𝐞𝐫 𝐟𝐥𝐨𝐰 𝐚𝐧𝐝 𝐞𝐚𝐬𝐲 𝐢𝐧𝐬𝐭𝐚𝐥𝐥𝐚𝐭𝐢𝐨𝐧】The flow rate can get as high as 1.59 GPM, meaning that you can fill up an 8oz cup of water in just 2.3 seconds. The water flow remains stable even at a high speed. The innovative design of this under sink water filtration system means you can install without drilling a hole on the countertop. You can connect the system directly to your home faucet, and get pure water for all your needs – drinking, washing, and others.

【𝐌𝐮𝐥𝐭𝐢𝐩𝐥𝐞 𝐚𝐫𝐫𝐚𝐧𝐠𝐞𝐦𝐞𝐧𝐭 𝐨𝐩𝐭𝐢𝐨𝐧𝐬】The user-friendly innovative design allows the system to be hung on the cabinet wall or placed on the floor. For homeowners who wants to avoid drilling holes in the cabinet, the system is right for you.
This post contains affiliate links.