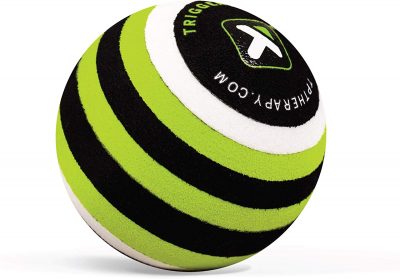 Today only, Save on TriggerPoint recovery products! You'll find massage rollers and tools to make your massage more effective and comfortable! TriggerPoint Foam Massage Balls provide targeted deep tissue massage to relieve aches and pains, release muscle tightness, improve mobility, and restore movement. Massage balls are ideal for targeting discomfort in hard to reach, pinpoint areas such as calves, glutes, hips, pecs, shoulders and back. Available in 2.5-inch size in two densities – the firm MB1 or extra firm MBX – and the 5-inch firm MB5, these massage balls are lightweight, travel-friendly and durable for relief at home and on the go. The larger MB5 rolls more muscle surface, while the MB1 and MBX dig deeper into the muscle to roll directly on tender spots. Get the TriggerPoint Foam Massage Ball for Deep-Tissue Massage for only $7.84. 
NA

Imported

Layered construction provides direct, deep-tissue compression for fast relief of aches, pains, and muscle fatigue

Ideal for targeting small muscles such as calves, piriformis, and pecs

Encourages blood and oxygen flow to enhance overall movement, range of motion and performance

Foam surface is easier to clean and more hygienic than cloth

2.5-inch, 1.2 ounce. One-year manufacturer's warranty
This post contains affiliate links.