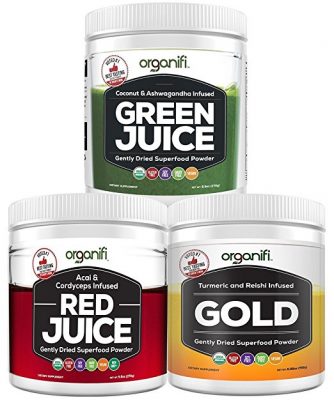 At Organifi, we believe that true wellness is best fueled by organically proper nutrition. The foundation of our superfood powders stems from plants and other powerhouse ingredients from nature that just wouldn't make sense to recreate in a lab. Click here to Save today on Organifi Red Juice Super Food Supplement. You can buy the products individually at a discount today or purchase the Organifi Sunrise to Sunset Power Box for $141.99 today!
DROP THOSE ENERGY BARS LIKE THEY'RE HOT: Ditch processed sugars as an energy source with Turmeric, Ginger, and Cinnamon that can wake you up naturally.

KICK CAFFEINE TO THE CURB: The crash of coffee probably won't appeal to you after the boost of Matcha Green Tea, Acai, and other natural energy sources.

A DEEPER SLEEP MADE POSSIBLE: Lemon balm can calm both your mind and system while other natural ingredients get to work on soothing your digestive system.

NO HIDDEN INGREDIENTS OR PRACTICES: GMOs and hidden chemicals have no place in your diet. This Vegan, USDA Certified Organic powder is free of them.

100% SATISFACTION GUARANTEE: No need to worry about whether or not this superfood powder will work, because you have 60 days to return it for a full refund!
This post contains affiliate links.