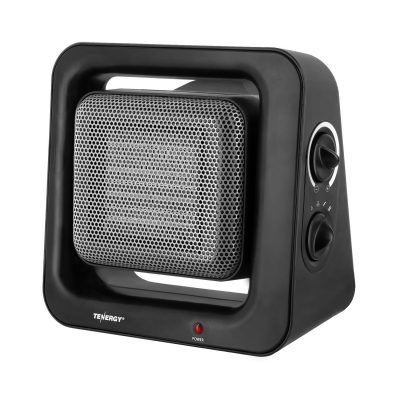 It's that time of year again…the time when a little space heater can make all the difference! Today only, Save on Tenergy Portable Heaters. You'll have a chance to choose from two different models, including this Tenergy 900W/1500W PTC Ceramic Heater with Auto Shut Off for only $27.99. Stay cozy with help from the Deal of the Day!
POWERFUL AND COMPACT WITH A MODERN LOOK – The Tenergy 900W/1500W Ceramic Personal Heater has a lightweight portable design where its coils will heat faster to generate quick and even heating throughout the room.

CONTROLLABLE COMFORT – With a 15° degree fan tilt, direct air up towards your preferred area with Fan-Only/ Low-Heat (900W)/ High-Heat (1500W) functions that let you control the hot air output. The additional adjustable thermostat can be set to maintain the desired temperature in your room. This is one of the best portable heaters for home, office and bedroom.

BACKED WITH SAFETY – The Tenergy Personal Heater has an automatic shut off feature to prevent overheating once the electric fan heater senses an internal temperature of 179.6°F (82°C).

QUICK HEATING FOR INSTANT WARMTH – Using a ceramic heating element, the fan-forced heater begin to get hot within 3 seconds to generate a fast amount of heat to reach the desired temperature.

ETL CERTIFIED & 2 YEARS EXTENDED WARRANTY – Built with flame-retardant case and premium circuitry, this heater meets the rigorous safety standards of ETL. Register your Tenergy Ceramic Heater to receive 2 years extended warranty and lifetime support from our friendly customer service.
This post contains affiliate links.