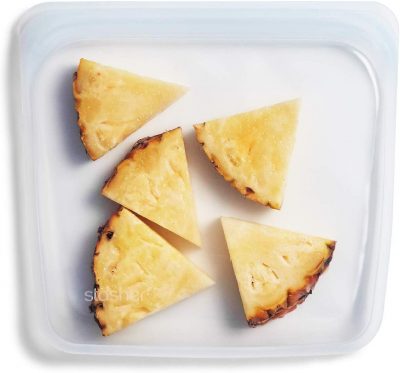 If your New Year's Resolutions have to do with environmental impact (or financial savings) check this out! Today only, save on Stasher Silicone Reusable Food Bags. Rather than wasting bags and money by continually purchasing disposable baggies, get a few of these and reuse them! Stasher was born from an unwavering commitment to reduce single-use plastics. Some might call it an obsession. We'd call it a passion for a better world. Click here to save on Stasher 100% Silicone Reusable Food Bags!
100% pure non-toxic platinum silicone: the world's first fully functional, self-sealing, non-plastic bag. Plus unlike traditional plastic bags, Stasher bags contain no BPA, no PVC, and no latex. Keep your food safe from contaminants in Stasher bags!

Join the plastic Free movement: created in response to the profound need for a healthy alternative to plastic storage.

Pinch-lock seal: features the innovative air-tight, pinch-lock seal to keep food fresh to store, marinade, and sous vide. Keep your food's nutrients, flavors and juices locked in. Just burp your Stasher to remove excess air and pinch the Seal closed!

Dishwasher and Microwave Safe: platinum food-grade silicone is safe for use in the freezer, microwave, dishwasher, boiling water, and oven up to 400 degrees Fahrenheit.

Start your stash: half-gallon size 10. 25" x 8. 25" x 1. 5" (64. 2oz); sandwich size 7. 5" x 7. 5" x 1" (15oz); snack size 4. 5" x 7. 5" x 1" (9. 9oz); pocket size 3. 5″ X 4. 5″ X 1″ (4oz); stand-up size 7. 75″ X 7″ X 3″ (56oz)
This post contains affiliate links.