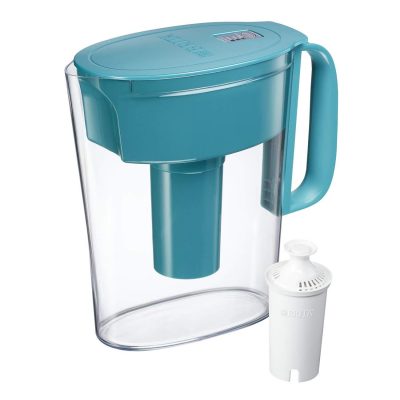 Hydration is such a huge aspect of health but don't overlook the purity of your water! Today only, Save on Select Brita Water Filter Pitchers. Choose from several sizes starting at only $13.49. Get the Brita Small 5 Cup Metro Water Pitcher with Filter – BPA Free in Turquoise for only $13.49. 
SMALL WATER PITCHER: This small, clear plastic pitcher is designed to be space efficient and easily fit into narrow, tight places. Height 9.8″; Width 4.45″; Length/Depth 9.37″; Weight 1.39 pounds

CLEANER AND GREAT TASTING: The BPA free Brita filter reduces chlorine taste and odor, copper, mercury, and cadmium impurities found in tap water. *Substances reduced may not be found in all users' water.

FILTER INDICATOR: For optimum performance, a helpful electronic filter indicator tracks when your water filter needs to be replaced.

REDUCE WASTE: One Brita water filter can replace 300 standard 16.9 ounce water bottles.

REPLACEMENTS: Change Brita filters every 40 gallons, about 2 months for the average household for optimal performance.
This post contains affiliate links.