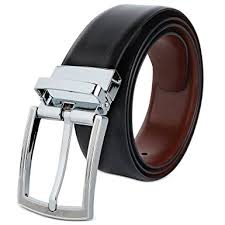 The right belt can round out a man's head-to-toe ensemble, this high quality "Savile Row" top grain reversible leather belts will convert your or your loved ones belt, from being just an accent piece into a "centerpiece" of the clothing! Click here to save on Savile Row Men's Top Grain Belt, today only! This classic and fashion Savile Row leather belts styles, were carefully selected and designed by the experts of the celebrated Savile Row company from London, the Savile Row company a global retailer of fine luxury goods, known for modern and upscale designs for men's clothing in the UK.
100% Top Grain Leather

Made in USA with Imported Leather

BE VERSATILE – REVERSIBLE (Black / Brown): This Savile Row men's belt features a nice leather strap on both sides, you can finish off any look in black or brown with just a twist of the buckle (see attached photo), so you are getting 2 leather belts in a practical 1 belt.

TOP GRAIN LEATHER – This Savile Row top grain leather belt has been made from the top or outermost layer of cowhide in order to offer highest quality and maximum durability for long lasting, Top-grain leather is durable and soft, and is not processed or treated with any chemicals as some other forms of leather.

A History & Tradition of Exceptional Quality: The well-known Savile Row Company from London leather belts is hand crafted in NY from the finest quality imported top grain leathers, all Savile Row belts pass rigorous quality inspections ensuring only perfect belts reach the market.

INNOVATIVE DESIGN MEETS UNMATCHED FUNCTION: the secret of having a beautiful elegant & stylish looking belts can only be found in this Savile Row reversible belts, they are durable and everlasting, with their beautiful finish compliments to its stylish Buckle, belt is elegantly designed with class to be used as a formal everyday dress, casual, work, fashion and of course for a professional look when attending a business meeting or at any place where you need to look your best.

Size and Function Details: for a perfect fit please buy the "EXACT" same belt size than your pant size, belts have 5 holes with the middle hole being the exact waist size, see attached sizing chart for more details. Width of belt strap measures 1.35″ and is 2mm thick. ORDER WITH GRACE: If you are looking for the best leather belt, just add the Savile Row belt to your cart, its 100% satisfaction guaranteed, with a 30 days free exchange and return policy as long it's still in brand new condition.
This post contains affiliate links.