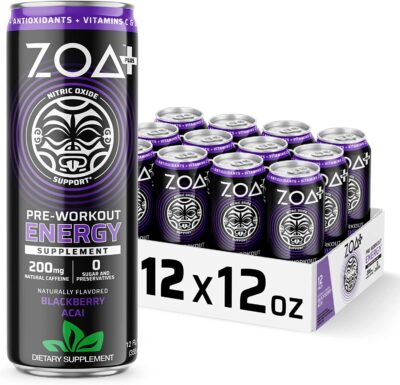 Click here to Save on ZOA Sugar-Free Energy Drinks & Pre-Workout Drinks from Amazon. 3000mt L-Citrullineprovides nitric oxide supplement support for exercise performance, blood flow and ocygen delivery, encourage muscle recorvery and promote overall recovery following exercise. Get this ZOA+ Plus Sugar Free Pre Workout Drinks, 12 Fl Oz | Nitric Oxide Supplement, Vitamin C, Vitamin D, B-Vitamins & 200mg Natural Caffeine | Blackberry Acai, (12 Pack) for only $27.99!
Total Pre Workout Drink: ZOA+ Pre Workout Supplements provide an extra boost of healthy energy support for sugar free on the go energy to promote focus and support powerful, productive, and positive workouts.

Zero Sugar Energy Supplement: Sugar free ZOA Plus contains 200mg of natural, clean caffeine from green tea extract and green coffee; A great tasting pre-workout energy supplement and energy booster.

Nitric Oxide Suppelemtn: 3,000mg L-Citrulline provides nitric oxide supplement support to help support exercise performance, blood flow and oxygen delivery, encourage muscle recovery, and promote overall recovery following exercise.

Superior Formula: ZOA+ contains 100% Daily Value of Vitamin C, a Vitamin B blend (200% DV B5, 100% DV B6, 100% DV B9, 250% DV B12), 25% DV Vitamin D, amino acids L-Citrulline and amino acid derivative L-Carnitine, and is electrolyte enhanced with potassium and sodium.

Blackberry Acai Flavor: Ground yourself before you challenge yourself. The flavor of perfectly ripe blackberries combines with healing, exotic acai berry notes.

Remember, Amazon prices can change at any time.
This post contains affiliate links.