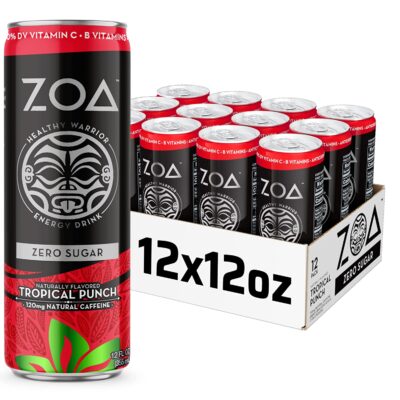 Click here to Save on ZOA Energy Drinks!
ZOA's healthy energy drink ingredient blend contains immune supporting vitamin C, aminos for muscle support, and electrolytes for hydration. Each Sugar Free Energy Drink by ZOA is formulated with natural caffeine from green tea and un roasted coffee beans which supports balanced energy without the jitters or crash. ZOA is a true sports zero sugar energy drink that provides focus and hydration support using multiple b vitamins and electrolytes. Get this ZOA Energy Drink, Tropical Punch 12 Fl Oz – Zero Sugar, Vitamins, Antioxidants, Electrolytes, Natural Caffeine – Gluten Free & Keto Friendly (Pack of 12) for only $13.99!
Healthy energy drinks: ZOA provides healthy energy for balance and drive and includes a unique vitamin c, b vitamin, and electrolyte mix which supports immunity, focus and energy for sports.

Natural caffeine drink: all sugar free energy drinks by ZOA are formulated with caffeine from green tea and green coffee beans which provides balanced natural energy without the crash.

Electrolyte drinks: every ZOA energy drink contains potassium and magnesium which help keep you hydrated at work, during workouts, and playing sports.

Sugar free energy drink: just the right amount of sweetness, with zero sugar. All ZOA energy drinks are keto friendly drinks, gluten free and low calorie.

Sports drinks – Even the strongest athletes need support. That's why ZOA contains a unique blend of vitamins, caffeine and other ingredients to support your daily workout regimen.

Delicious Tropical Punch drink: Sink your toes into the sand with this exotic blend of flavors that evoke citrus and tropical fruit.
Remember, Amazon prices can change at any time.
This post contains affiliate links.