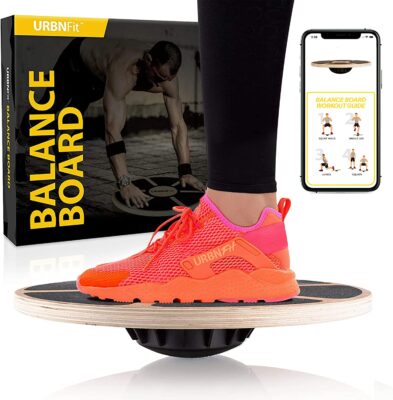 Save on URBNFit Fitness & Yoga Gear!
Have you always wished for a single, fitness device that could do wonders for you? It's here: And its name is URBNFit Wooden Balance Board.The most incredibly effective, portable and fun fitness equipment that promises to rock your workout routine. Tone your abs, strengthen your lower back muscles, increase your balance, boost your sporting performance, improve your reaction time, reduce the risk of injuries, aid your recovery, shape your whole body and so much more. It is simply amazing; there is nothing that this brilliant device can't do for you. Wobble That Body. How does it work? It's simple. The wobble effect causes the body to try and maintain balance while on the board, thus engaging multiple muscle groups simultaneously. While this is happening, its round, wooden, anti-slip surface provides a strong grip for absolute safety. Take your regular exercises to a whole new level by combining them with this amazing wooden balance board and reap manifold positive benefits. Get the URBNFit Balance Board Trainer – Wooden Wobble Balancing Board for Core Stability, Strength Training & Flexibility – Wobble Board w/ Workout Guide to Exercise at Desk or Home Gym for only $17!
DYNAMIC WORKOUT – The URBNFit balance boards for adults and kids are not only a fun way to help improve balance, body control, agility, and strength, but also engage all muscle groups.

VERSATILE – Hone your balancing skills with this piece of home fitness equipment. Ideal for all ages, the balance trainer can be used in hockey training, physical therapy, and even at a standing desk.

DURABLE CONSTRUCTION – Crafted with solid wood, sturdy ABS plastic, and an anti-skid surface for stable grip, this trainer is a high-quality balance board kids and adults can use for years to come.

BONUS GUIDE – Get started with your wooden balance board right away! Each one includes a paper and digital workout guide, so you can work on achieving rock-solid footing come game time.

REINVENT YOURSELF – Fitness goals are only good if you're willing to follow through with them. Luckily, our balance boards are a surefire way to help you become a happier, healthier you!
This post contains affiliate links.