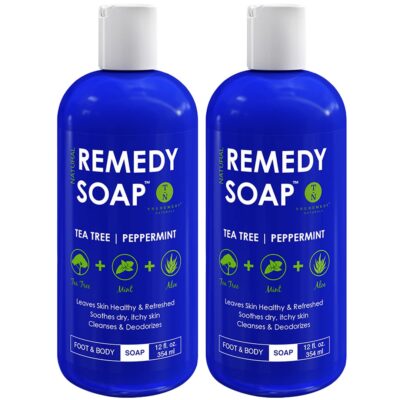 Click here for the Save on TruRemedy Premium Organic Body Wash & Balm!
We choose only the highest quality ingredients when designing effective, natural products. We're committed to using pure, clean, organic ingredients that are ethically sourced. We don't use fillers or additives, and work with experts to ensure our products are safe and effective. Get the Remedy Soap Tea Tree Body Wash – Pack of 2 | Helps Wash Away Body Odor, Soothe Athlete's Foot, Ringworm, Jock Itch, Yeast Infections and Skin Irritations | Shower Gel for Women/Men | 100% Natural with Tea Tree Oil, Mint & Aloe (12 oz) for only $22.39!
Made in the USA: Now in TWO large 12 ounce bottles, Remedy Soap Body Wash is a powerful odor eliminator that helps with acne as well as other skin irritations including athlete's foot, candida, ringworm, jock itch, foot odor, and toenail issues.

Natural and Organic Ingredients: Our men's and women's shower gel is made from premium botanical tea tree oil and peppermint oil, which are well known for naturally helping skin irritations. We added jojoba oil, coconut oil, and olive oil to moisturize, refresh and deodorize. No parabens, preservatives, petroleum, sulfate, silicone, synthetic fragrances or dyes you'll find in other gels, lotions, creams and ointments.

Strong Enough for the Gym, Gentle Enough for Every Day: The perfect men's and women's shower gel for your gym bag. It smells great, like a tea tree shower gel with peppermint should, is balanced for all skin types and gives you a fresh tingling sensation.

Soothes Dry, Itchy, Cracked, Flaky Skin: Contains Skin Enriching Omega 3,6,7,& 9, Vitamin E & C, Aloe Vera, Tea Tree Oil, and other essential oils which help soothe foot and body skin irritations on your face, hands, heels, toe nails, elbow, back, chest, and butt. Men and women with acne and eczema use our moisturizing body wash for cleaner feeling skin.

TruRemedy 100% Guarantee: We Stand By all Our Products – Remedy Bar Soap, Remedy Shower Gel for Men and Women, Remedy Foot Wash, Remedy Balm, and Tea Tree Oil Foot Soak with Epsom Salt. If you have any issues with our organic body wash reach out to us and we will do our best to make it right.
This post contains affiliate links.