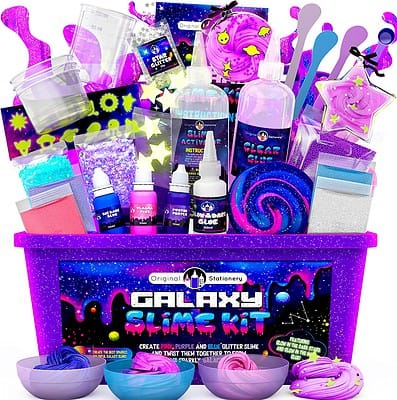 Our Galaxy Slime Kit is the perfect combination of fun and learning. Slime making has been proven to aid a child's development and greatly enhance creativity and our Galaxy Slime Kit does just that! Click here to Save on Toys and Games from Original stationary, Marble run, Gocube and more!
Inside our Galaxy Slime Kit, you'll find a helpful guide with fun and proven recipes on how to make amazing 'out of this world' slimes! Go crazy with inks to make galactic colors, add some Glow In The Dark powder and stars to see your slime glow at night! Add galactic stars to your green slime or glitter flakes to your crazy space colored slime – pop them into the Star and Planet cases to keep squishy and hang in your bedroom at night! Get this Original Stationery Galaxy Slime Kit, Fun Slime Set with Glow in The Dark Stickers and Glow in The Dark Powder to Make Glitter Slime & Galactic Slime for only $21.20. 
25-piece slime craft kit to create the best sparkly, colorful galaxy slime fluffy for kids DIY fun!

Make pink, purple & blue glitter slime para niñas with lots of add-ins for the ultimate slime games

Twist the slime to form awesome glitter galactic slime & create cosmic slime for science activities

Our galaxy slime making kit features Glow In The Dark Stars & Slime Powder to add to your creations!

Kids will love to spend hours making galaxy slime crafts for kids ages 8 up with this kit de slime
This post contains affiliate links.