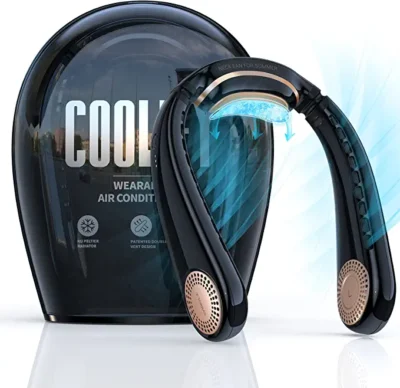 Save on TORRAS Coolify Air Conditioner Neck Fan.
Are you looking for a simple solution to help cool your body during those hot summer days, intense workouts or just about anything in between?
Coolify, the most technologically advanced personal air conditioner unit. With a Ku Peltier Radiator and 3D Airflow Design, Coolify lowers your body temperature within 3 seconds!
Wearing Coolify device feels like a refreshing breeze on a hot summer day. Coolify provides a constant cooling experience for as long as you wear it. Get this TORRAS Coolify Portable Air Conditioner Neck Fan, Hands Free Semiconductor Cooling Bladeless Fan, 4000 mAh Rechargeable Leafless Mini USB Fan for Outdoor/ Home/ Office, 3 Speeds, Brilliant Black for only $101.31.
【3S Cool Down 18 °F】The Ku Peltier Radiator is the secret to this neck ac device. With the 0.9 x 0.9 inch Ceramic semi-conductor radiator built in, Coolify neck air conditioner only needs to cool the back of your neck to refresh your entire body in seconds. Heat energy is exchanged by a semiconductor cooling plate, and the coldness is transmitted to the skin within 3 second, lower your body temperature by 18°F in just 3 second!

【3D Airflow and Double Vent Design】Coolify's 3D Airflow Design includes 36 air vents to provide an immersive cooling experience. The upward vents blow cool air towards your face while the downward vents prevent long-term wear discomfort by cooling the skin of your neck. With the patented Air Duct, 5000 rpm High Speed Motor, and 41 mm Super wearable air conditioner, Coolify neck fan maximizes the efficiency of the cooling process and has 3 settings: light breeze, mild wind, and cool wind.

【Stylish Design & Safety Bladeless】The blade-less and hands-free design avoid the awkward moments that rest of cooling solutions may brought. Keep your hands free so you can do more! Using Coolify bladeless neck fans is just like wearing a pair of headphones around your neck. With its unique bladeless design, attention to comfort, adjustable hinges design and remarkable beauty, Coolify portable neck fan will forever change the way you cool down during those hot summer days.

【2H Charging Using Up to 8H】Using a 4000 mAh high-grade lithium battery, Coolify personal fans will last up to 8 hours per charge and recharges in just 2 hours. Speed 1 without cooling mode you can use Coolify portable fans for 8 hours, speed 3 with cooling mode you can enjoy 2 hours cool feeling, how long working depends on which speeds you choose. Equipped with USB-C charging port which not only makes charging 2 times faster than conventional chargers but also supply Multi-way for power.

【Elegant Package & 180-Days Warranty】Coolify personal neck fan comes with a special designed space capsule case, providing a sense of tech and mysterious. Imagine the surprise moment that your beloved one receive neck coolers as a gift. Package includes COOLIFY cooling neck fan, Type-C Charging Cable, Carry Bag and Instructions. Committed to your satisfaction, we offer 30-day no reason refund 180-days Warranty and lifetime customer service.
This post contains affiliate links.