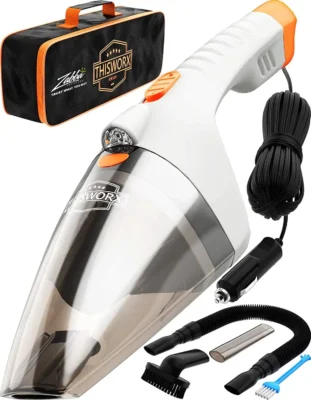 This car vacuum will make keeping your vehicle clean, quick & easy. With 3 all-purpose nozzles, a carrying bag, 16ft long power cord, Additional HEPA filter, cleaning brush you'll have everything you need! Get the ThisWorx Car Vacuum Cleaner – LED Light, Portable, High Power Handheld Vacuums w/ 3 Attachments, 16 Ft Cord & Bag – 12v, Auto Accessories Kit for Interior Detailing – White for only $19.28. 
THE ULTIMATE HIGH POWER: We achieved a new high standard in automotive cleaning with our improved car detailing vacuum. Upgrades include: 110W cleaning power & 9.17 Amps, a sleek design with integrated LED light and a washable double filter. These van or truck accessories for men & women use the 12v aux outlet for power.

NO MORE CRUMBS: Interior car cleaning kit includes 3 attachments (flathead, extendable, or brush nozzle) for detailing, carry bag, and a filter cleaning brush. Must have car accessories for women or men; these gadgets will keep the interior cute and tidy.

EASY: A mini vacuum for car or truck that is compact, lightweight (2.6 lbs), and easy to use. The large dust bin capacity is ready for ash, dust, or drive-thru food spills. A fully loaded interior car detailing kit housed in an ergonomic design.

EFFECTIVE: Designed for on-the-go use and to solve out-of-reach problems. A very sandy day at the beach? A coat of dog hair? The portable vacuum cleaner for car is made to help. The LED light is a lifesaver at night or in the shadows under seats.

CYCLONE FORCE: The cyclonic force and strong suction of the 110w motor will terminate any dirt or debris; say goodbye to hard-to-reach crumbs stuck under the driver's seat or in crevices. Our small handheld vacuum even has a top of the line washable HEPA filter.
This post contains affiliate links.