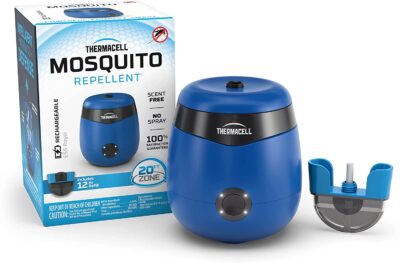 Mosquitoes have an incredibly advanced sensory system that detects humans from far away. Our highly targeted repellent disrupts their sensors, irritates them, and drives them away. Heat from the Lithium ion battery activates the repellent. Once activated, the repellent forms a 20 ft ZONE around you to keep mosquitoes away. Get the Thermacell E-Series Rechargeable Mosquito Repeller with 20′ Mosquito Protection Zone; 5.5-Hr+ Battery Life; Includes 12-Hr Refill; No Flame or Scent; DEET-Free Bug Spray Alternative for only $29.68. 
TURN IT ON… MOSQUITOES GONE: Our most advanced repellent system. Thermacell E55 Rechargeable Mosquito Repellent creates a 20-foot mosquito protection zone – 80% more area than previous models. Easy to use, one button keeps mosquitoes away.

PERFECT FOR BACKYARDS: The E55 is ideal for the backyard, poolside, patio and more. Enjoy 12 hours of continuous mosquito protection with the included scent-free refill. Stay protected even longer with a 40-hr refill (sold separately).

ON-DEMAND DEFENSE: Powered by a rechargeable lithium-ion battery, E55 provides 5.5 hours of continuous mosquito protection on a charge. USB charging cable included. Allow 15 minutes for full effect. Can charge while operating to extend run time.

REPEL WITHOUT SPRAY OR SCENT: Repel mosquitoes without chemicals or sprays on your skin. No lotions or DEET to apply. No smoke, flames, or citronella. Not a messy trap or gimmicky sonic. Independently tested. EPA reviewed for safety & effectiveness.

THERMACELL GUARANTEE: Our one-touch-simple E55 carries a 2-year warranty, extended to 3 years with free, easy registration. Developed and Tested at our New England based R&D center. We stand by our products with a 100% satisfaction guarantee.
This post contains affiliate links.