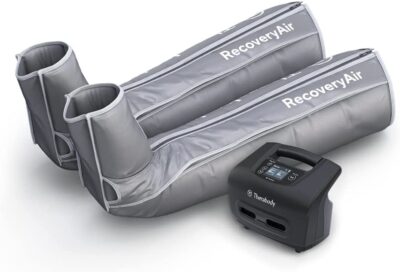 Save on Theraguns 5th gen and Recovery air classics!
Meet RecoveryAir PRO, the most customizable pneumatic compression system in recovery used by professional athletes, weekend warriors, trainers, and PTs worldwide. Simply slip on the compression boots, then sit back and relax as our clinical-grade compression technology allows you to cut down on hours of rest and recovery by increasing circulation more globally in the body. Discover what this world-leading technology can do for your performance and recovery. Get this Therabody RecoveryAir PRO – Compression Massage Boots – Customizable Air Pressure and Circulation Recovery for Athletes – Muscle Pain Relief System with TruGrade & FastFlush Technology – Large for only $589!
Fully Customizable Compression System – RecoveryAir PRO is the most customizable compression system in recovery. Adjust an array of pressure and time settings of four preset programs and save unlimited personalized routines via the Therabody App.

What's Included – RecoveryAir PRO Pump, 2 Large Compression Boots (Outseam 35.5″ – 41″), Blocker Plug, DC Power Adaptor. RecoveryAir PRO is the hygenic way to recover, internal chambers create a seamless interior that won't trap excess moisture.

Revolutionary Technology – RecoveryAir PRO features an extended 240-minute battery life and allows users precise pressure control (20-100 mmHg). Take control 4 indvidual compression chambers via Bluetooth in the RecoveryAir app, with a full and rapid pressure release every 60 seconds athletes can recover faster, safer, and more effective.

Freestyle Customization – Recharge tired legs with 5 preset guided compression programs. RecoveryAir PRO is the ultra-compatible recovery device, relieve pain throughout the body with the other RecoveryAir compression garments.

Industry Leader – Therabody's been innovating ways to take charge of your daily wellness for over a decade with products like Theragun, TheraFace facial treatments, RecoverAir Leg compression, Wave Series rollers, and PowerDot muscle stimulation.
This post contains affiliate links.