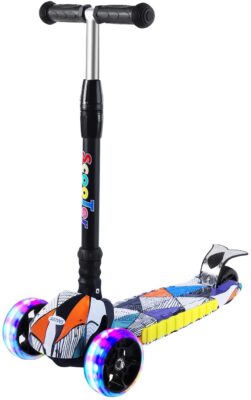 Save on Sulives Kick Scooters today. 3-wheeled scooters help our children master balance and coordination. Safety is important to us, Made with high-density plastic, its lightweight long-lasting design allows your child to feel safe and secure as they ride and is durable enough to handle regular use. 3 flashing wheels and lean to steer, makes riding a scooter fun and easy for kids to play with. The SULIVES Kids Scooter is equipped with 4 adjustable height handlebar so you can child can continue to use their scooter as they grow. Get the SULIVES 3 Wheel Scooter for Kids Ages 2-12 – Height Adjustable, Back Wheel Brake, Extra-Wide Deck with 4 Light-Up Wheels, Best Day Gifts for Boys and Girls Toddler (Black) for only $39.99 today. 
【LED FLASHING WHEELS】:The kids scooter features 2 big front LED PU wheels and small rear LED PU wheels,Shining wheels will promote fun when children play,when the wheels start to rotate, the LED lights are on, as bright as day or night.

【ADJUSTABLE HEIGHT】:The kick scooter designs with adjustable handlebar, T-bar with Secure Lifting and Twisting Lock can be adjusted from 26″ to 34″ ,adapt to the growth of children aged 3-12 (3-5,5-8,6-12)years old.

【INTELLIGENT TURNING AND EASY TO STOP】:You can control the turning and balance easily by your physical incline. This child's scooter features an easy to access rear brake for safe and speedy secure stop.

【SAFE DURABLE MATERIAL】:The stainless steel bracket is matched with high-grade TPU pedals, which is sturdy and durable, and can easily carry 150 lbs. The comfortable non-slip grip and fishtail stainless steel rear wheel brakes protect children's safe ride.

【EASY TO INSTALL AND CARRY】:The T-handle of the scooter can be easily installed and folded with bare hands, and the folded scooter can be easily put into the trunk of the car. Whether you are going to outdoor sports or a park outing, you can easily carry it.
This post contains affiliate links.