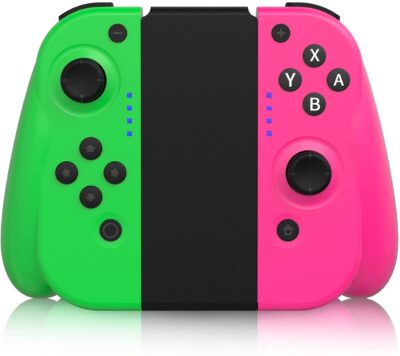 0000000000000000000 This Nintendo Switch wireless replacement controller has been ergonomically upgraded to better suit your habits and improve your grip experience, with a non-slip surface that helps you stay comfortable and more in control during gameplay. Each button is designed to be smooth and interference-free, and each Joypad can be used individually to share the fun together when your partner is on a date, and when your friends are getting together. Get this STOGA Wireless Controller for Nintendo Switch/Switch Lite, Replacement for Switch Joypad Compatible Console with Motion Control & Dual Shock with Joy-Con Controller Replacement–Pink/Green for only $31.99 today!
【Designed for Nintendo Switch/Lite】Ideal replacement for the Switch Joy con; Same layout of original controller buttons; Used independently in each hand or attached to the console for use in handheld mode; Anti-scratch and anti-slip durable ABS material.

【Fast Pairing】Supports wireless and wired connections; Automatically reconnects; Rechargeable battery life of around 10 hours, and 20 hours for non-vibration gaming sessions; Charged by console or Micro USB.

【High Precision Control】Precise aiming and shooting; Responsive analog stick; includes an accelerometer and gyro sensor in each controller; Dual Vibration; Capable of independent left and right motion control.

【Ergonomic Fit】Streamlined design helps you to rest your palms and index fingers; Similar weight to the original Joy Con; Feels like an ergonomic comfort grip when attached to console.

【What's Included】1x Left Controller, 1x Right Controller, 1x Micro USB Cable, 1x User Manual, and LIFETIME Technical Support.
This post contains affiliate links.