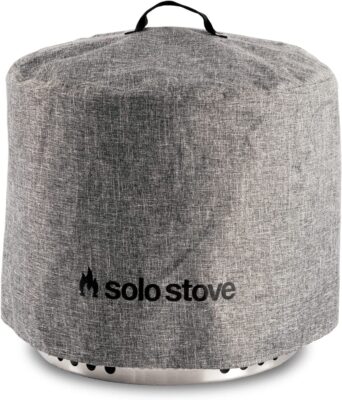 Save on Solo Stove Fire Pits Accessories!
Shelter is the perfect fit for your fire pit. Not only is the Shelter weather-resistant, but it's also weather resilient. The shelter is made with PVC-coated polyester, the same material used to make whitewater rafts, and will protect your Solo Stove fire pit from moisture even in strong winds. Its domed roof is supported by reinforced 6061 aluminum (3mm thick) stays will also prevent water from pooling on top of the unit. Get this Solo Stove Bonfire Shelter Protective Fire Pit Cover for Round Fire Pits Waterproof Cover Great Fire Pit Accessories for Camping and Outdoors, Grey for only $39.99. 
SIMPLE BY DESIGN: The Solo Stove Shelter is designed to fit snuggly around your Bonfire fire pits. It suits perfectly for your camping fire pit for outside or backyard.

PROTECT: The fire pit cover provides protection from both rain and snow while still keeping a sleek and seamless look of your camping stove. Helps your camping stove to be protected fom the natural elements, keeping it longer for your occasional or special use.

PVC-COATED POLYESTER: Its reinforced top helps to prevent water from pooling at the top of your Solo Stove fire pit for garden ensuring a long lasting fire place for you and what matter to enjoy.

CONVENIENT HANDLE: Styled for your convenience, the handle at the top of the fire pit cover is for your easy removal from your Bonfire portable fire pit. Easy to put the shelter in place whenever you need to put to flame your portable fire pit.

EASY STORAGE: This Solo Stove Bonfire accessory folds away for easy storage when not in use. In addition, shelter slides off when you are ready to put your Solo Stove to use.
This post contains affiliate links.