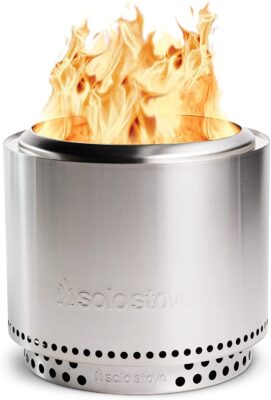 Save on Solo Stove Bonfire Pit and Accessories for Prime Day!
The Solo Stove Bonfire is unlike any other fire pit you've ever seen! We have used our same patented technology that has been perfected into a portable fire pit to take along on trips or to enjoy at home. The best part? Nearly no smoke and only fine ash left over! Making the Bonfire not only easy to clean up, but won't leave you smelling like campfire. The Bonfire gets its power from logs, & creates a secondary burn and a beautiful flame that your family and friends will enjoy gathering around! Get this Solo Stove Bonfire with Stand Portable Fire Pit Stainless Steel Fire Pits Wood Burning and Low Smoke Camping Stove | 19.5×14 Inches Outdoor Fire Pits for only $249.99!
MOST UNIQUE FIRE PIT: Solo Stove Bonfire pushes the limits of both combustion airflow efficiency and minimalist outdoor design with its all stainless steel construction. It was brilliantly engineered to provide a backyard fire experience that cannot be duplicated. Our patent pending design sold over $1.1M sold on kickstarter.

SECONDARY COMBUSTION: The camping stove has double wall design maximizes airflow and burning process. Bottom vent holes allow oxygen to the feed the fire from below while simultaneously channeling warm oxygen up between the walls of the stove and back into the fire.

A MORE EFFICIENT BURN: A more complete burn means the little particles that would have been smoke are burned up by the top vents. It also means no more half burned logs to deal with.

ASH PAN: Catches loose ash and prevents it from clogging vital airflow. The ash pan also acts as a heat shield and reduces the heat transfer from your Bonfire to the ground beneath it.

BONFIRE STAND: Get the most from your Bonfire camp stove by being able to use it in more places than ever! With ample airflow, the stand accessory allows you to use your fire pit on more heat sensitive surfaces.
This post contains affiliate links.