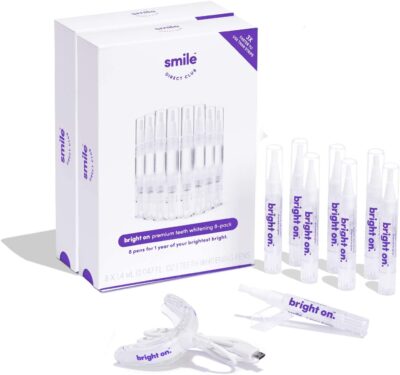 Make your smile sparkle: Save on SmileClub Direct today. 2 Complete Treatements + LED Accelerator light. Get brighter faster and keep it longer! (Up to 9 shades whiter teeth in 1 week) plus a second treatment for whenever you like. Ultra convenient wear time. Just 5 minutes, twice daily. Our patented formula gel starts whitening after just 1 use. So you'll be smiling your brightest before you know it. Get the SmileDirectClub Teeth Whitening Kit with LED Light – 8 Pack Gel Pens – Professional Strength Hydrogen Peroxide for only $51.18!
8 bright on premium whitening pens (2 full whitening treatments)

Results last up to 6 months, per 1 week treatment.

Up to 9 shades whiter in just one week.

Same enamel-safe whitening agent used by dentists.

Whitens with low to no sensitivity.

Helps remove years of tough stains.

Hands-free, smartphone-powered LED accelerator light, so you can brighten on the go. 20-LED light for maximum results.
This post contains affiliate links.