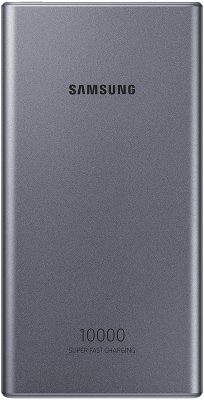 Click here to Save on Samsung Portable Chargers today only, starting at only $39.99. The 10, 000 mAh Portable Battery 25W charges lets you power up quickly when you're on the go. Compatibility with a wide variety of charging standards means your phone can get power at its fastest rate, up to 25 Watts. Get theSamsung 10,000 mAh Super Fast 25W Portable Charger Battery Pack USB-C , Silver (US Version with Warranty) for $39.99 today only. 
Super Fast Charging. Power up your phone quickly with Super Fast Charging capabilities. Plugged in via USB-C cable, your Galaxy Note 10 and can charge at 25 Watt.

Share with a friend. Charge two devices at once, so when you're charging your smartphone, you can still give your buddy a boost with the large 10, 000 mAh battery.

Charging protection. Overcurrent and Over Voltage Protection means you'll power up safely without having to worry about excessive current levels damaging your device.

Pass through charging. You can charge your portable battery while you charge a phone. When the battery is plugged in and charging with a wall charger, you can also charge a phone via the USB-A port.

Power Delivery. The battery is compatible with PD and Quick Charge standards up to 25W as well as the Samsung Adaptive Fast Charge standard up to 15W.

Model Number [EB-P3300]
This post contains affiliate links.