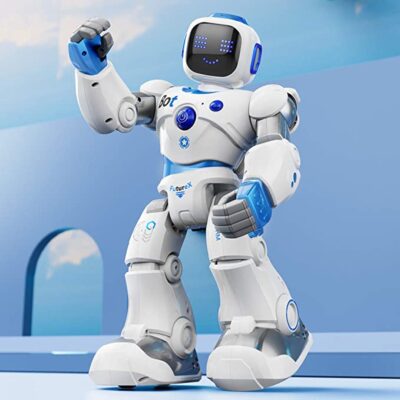 If you have kids (or are a kid at heart yourself), click here to save on Ruko Drones and RC Trucks today! Connect the robot with cellphone by Bluetooth, the robot can function as a Bluetooth speaker to play songs and stories you choose for your children. There is no limit on the number of songs and stories that the robot can play. This Ruko Smart Robots for Kids, Large Programmable Interactive RC Robot with Voice Control, APP Control, Present for 4 5 6 7 8 9 Years Old Kids Boys and Girls is only $101.99. 
【𝟒 𝐈𝐧𝐭𝐞𝐥𝐥𝐢𝐠𝐞𝐧𝐭 𝐂𝐨𝐧𝐭𝐫𝐨𝐥𝐬 𝐒𝐮𝐢𝐭 𝐃𝐢𝐟𝐟𝐞𝐫𝐞𝐧𝐭 𝐀𝐠𝐞𝐬】This smart robot named Carle can be controlled by remote controller, phone APP, voice command and gravity sensor easily, so kids can choose the proper control method per their age levels, current ability or favourite. Carle will become your kids' funny friend and a good companion in their childhood. (suitable for 3+ years old)

【𝐒𝐭𝐫𝐨𝐧𝐠 𝐀𝐜𝐭𝐢𝐨𝐧 𝐏𝐫𝐨𝐠𝐫𝐚𝐦𝐦𝐢𝐧𝐠 𝐃𝐞𝐯𝐞𝐥𝐨𝐩𝐬 𝐈𝐧𝐭𝐞𝐥𝐥𝐢𝐠𝐞𝐧𝐜𝐞】APP control supports Max. 102 actions in one program and total 58 types of actions can be freely selected, they can be saved and replayed when necessary; for remote controller 50 actions in one program and 26 different actions selected; so children can widely create the programs to develop their innovation, patience, concentration and logical sense.

【𝐌𝐮𝐥𝐭𝐢𝐟𝐮𝐧𝐜𝐭𝐢𝐨𝐧𝐚𝐥 𝐏𝐞𝐫𝐟𝐨𝐫𝐦𝐚𝐧𝐜𝐞𝐬 𝐌𝐚𝐤𝐞 𝐌𝐨𝐫𝐞 𝐅𝐮𝐧】The talking robot can function as Bluetooth speaker to broadcast unlimited stories and songs when connecting your phone; summarily he can tell stories, sing songs, dance, do gymnastics, walk, slide, record and broadcast the messages, etc, help kids learn and expand their knowledge in the funny way without any boring.

【𝐒𝐢𝐦𝐮𝐥𝐚𝐭𝐞 𝐇𝐮𝐦𝐚𝐧 𝐏𝐞𝐫𝐟𝐨𝐫𝐦𝐚𝐧𝐜𝐞 𝐏𝐞𝐫𝐟𝐞𝐜𝐭𝐥𝐲】LED face can vary in different Emoji to express his feelings; 9 flexible joints combined with 9 powerful motors ensure the robot conducts complicated actions smoothly; and this interactive robot will response when touching his head; all of these simulate human performance well and promote the interaction with children.

【𝐀𝐦𝐚𝐳𝐢𝐧𝐠 𝐆𝐢𝐟𝐭 𝐅𝐨𝐫 𝐘𝐨𝐮𝐫 𝐊𝐢𝐝𝐬】Our toy robot passed FCC and CPC certificate is safe and qualified for children; the big size (15.8x11x4.7 inches) , strong functions and luxurious package will be more attractive than others. Carle is one of the best robots for kids and will be an amazing gift for your kids on birthday, Christmas and big surprise.
This post contains affiliate links.