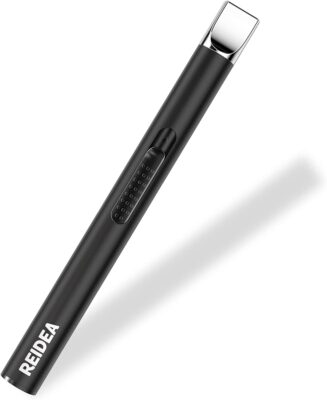 Click here to Save on REIDEA Household Supplies today! Our brand name comes from a simple concept: to constantly renew the idea so as to keep up with the changing needs of our customers. REIDEA never stops exploring new ways to engage with customers by introducing a variety of useful and innovative products. Get this REIDEA Electric Lighter, Candle Lighter USB Rechargeable Lighter with Safety Switch, Flameless Portable Windproof Plasma Lighters, Perfect for Home Cooking BBQ Camping Stove for only $9.99. 
【MULTIPLE SAFETY PROTECTION】Candle lighter using high-quality zinc alloy materials to help lighter quickly dissipate heat; automatically closed bayonet and hidden button. The lighter will automatically shut off after 10 seconds of being ignited, it can effectively improve the safety during use.

【USB RECHARGEABLE】 Candle Lighter can liberate your traditional lighter, no need to refuel the lighter, use USB cable for charging, suitable for any occasion. The LED indicator at the bottom lights up and you can use the lighter. A convenient safety switch is also built in for increased child safety in the home.

【WINDPROOF】The arc lighter adopts flameless technology to prevent electric pulses from being blown away in harsh environments such as strong wind or humidity, ensuring easy use in any weather conditions, perfect safety, and suitable for camping, outdoor barbecue, party, party, etc.

【PORTABLE DESIGN】Although the size of this flameless lighter is very small, with the powerful battery, its continuous working ability is also extremely excellent and durable. Suitable for outdoor picnics, camping or outdoor barbecues, gatherings, parties, etc.

【HARMLESS TO USE】Due to the slight deviation between the output frequency and the actual operating frequency of the LED, the USB Lighter may emit some sounds that sound like "zee zee" after the power is turned on. This is normal and will not produce any Chemical radiation will not cause harm to the human body.
This post contains affiliate links.