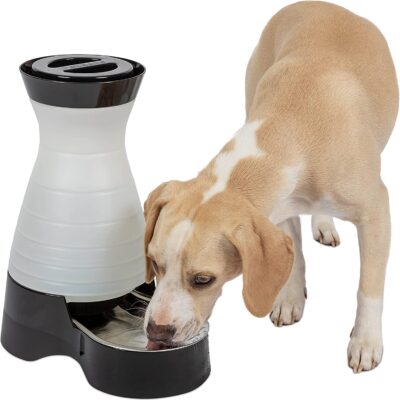 The PetSafe Healthy Pet Food and Water Stations are the first gravity food and water systems with a removable stainless steel bowl that is easy to clean and dishwasher safe. The food station works great for weekend trips as well as everyday use for the busy pet parent. Click here to Save on PetSafe Healthy Pet Water Stations!
WATER CAPACITY: Available in 1/2, 1 or 2 1/2 gallon water capacities

DRINK ANY TIME: This gravity water station allows you to keep your pet hydrated at all times of the day or night

STURDY CONSTRUCTION: The reservoir is made of durable plastic and locks in place to help from knock over and spills

HYGIENIC WATER BOWL: The bowl is stainless steel and more hygienic for your pet

EASY-TO-CLEAN: Disassembles for easy cleaning; stainless steel bowl is dishwasher safe

U.S.-BASED CUSTOMER CARE: Our pet product experts are here to help you and your pet and are available by phone, email or chat if you have any questions

ESTABLISHED EXPERIENCE: PetSafe brand has been a trusted global leader in pet behavior, containment and lifestyle innovations for nearly 30 years. We help pets and their people LIVE HAPPY TOGETHER
This post contains affiliate links.