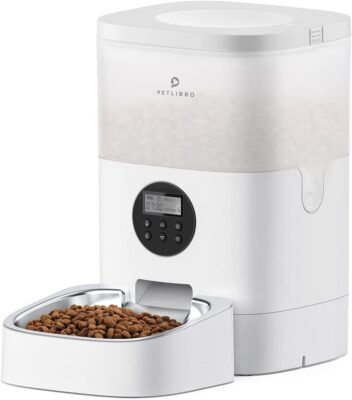 Save on Petlibro Automatic Pet Feeders, Fountains and Toy!
PETLIBRO was founded in 2019 in California, United States, in the belief that pet owners should be able to easily connect with their pets via trustable products. Since established, with our affection for pets and obsession with detail, we have designed products that pet owners would desire and shipped to homes in the United States, United Kingdom, Germany, France, Canada and Japan. Get this PETLIBRO Automatic Cat Feeder, Timed Cat Feeder with Desiccant Bag for Pet Dry Food, Programmable Portion Control 1-4 Meals per Day & 10s Voice Recorder for Cats and Dogs 4L/6L for only $55.99. 
Upgraded Transparent Tank: Easily check the remaining cat dry food in this 4L / 16.9cup automatic cat feeder through the transparent tank and helps refill the food timely, while avoiding opening of the cover frequently. Also equipped with a desiccant bag to keep food fresh. (Search "B08NVBYQHV" for replacement)

Dual Power Supply: Use the 5V DC adapter while sustaining the auto cat feeder power via 3 alkaline D-cell batteries(not included) installed in case of power outages, ensure that your pet gets food consistently. (Equipped with setting memory to prevent sudden power failure)

Flexible Feeding Timer : No more pre-dawn wake up calls, or worry when you are overtime at night! Easy to program PETLIBRO automatic cat feeder with a timer to dispense food in right time, 1-4 meals per day and up to 9 portions per meal customized healthy diet for your cat and dog.

Voice Recorder: Stay connected with your pet by calling PETLIBRO automatic pet feeder before meals with a 10s voice recording clip, thus enhancing the bond with your pet by keeping it fed regularly and feel safe & well cared for.

Easy to Use & Maintain: PETLIBRO Auto dog feeder inbuilt LCD screen allows for quick setup and the FEED button for additional feedings; Proper angle so that food will not accumulate in the food outlet, and food tank and tray are removable for cleaning.
This post contains affiliate links.