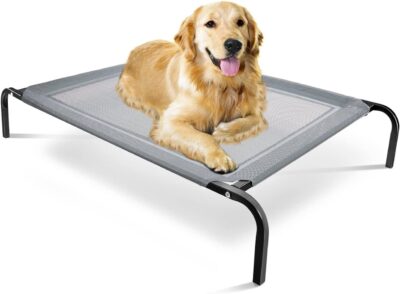 Click here to Save on Paws & Pals Pet Products!
Comfort isn't just for humans. Give your pet the best sleep of their life, far away from the cold hard ground. Plus, the mesh fabric will feel wonderful on their adorable paw pads. Get this Paws & Pals Elevated Dog Bed, Portable Raised Pet Cot Platform with Steel Frame and Lifted Cooling Mesh Hammock Best for Dogs, Puppy & Cat Indoor – Outdoor Use – Suspended Trampoline Large-Medium Size for only $15.99!
DIMENSIONS: 43.5×29.5 for the frame, 29×22 inches for the bed. Holds up to 88 pounds

CONSTANT USE: Rugged design makes this bed great for daily use, outdoor or indoor. Waterproof fabric.

YOUR PET STAYS WARM: Elevated design comfortably keeps your pet off the cold, hard ground

STAY ON A SLEEP SCHEDULE: Conveniently aids in maintaining a healthy pet sleep schedule. When your pet wakes up, the bed is easy to wash and maintain.

Made by Paws & Pals, an OxGord brand
This post contains affiliate links.