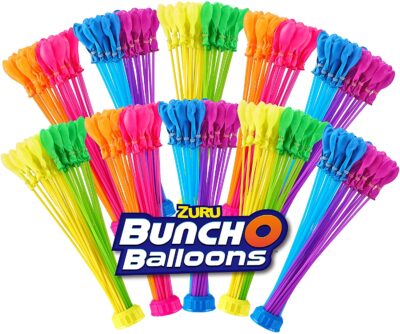 My whole family loves these! Get the Bunch O Balloons Neon Colors (10 Pack) by ZURU, 350+ Rapid-Filling Self-Sealing Neon Colored Water Balloons for Outdoor Family, Friends, Children Summer Fun (10 Pack) for only $17.91. Looking for more awesome summer fun? Click here to Save on Outdoor Water Toys, Floats, and more!
QUICK-FILL: Unleash fun with speed & ease this summer with Bunch O Balloons; Fill & Tie 100 Water Balloons in 60 Seconds. Simply attach the stem to a hose, fill them big & shake to make hundreds of Water Balloons in seconds. Yup, it really is that easy

NO MORE TYING: Bunch O Balloons patented O-ring technology means there is no tying necessary. These innovative Water Balloons Self-Seal, leaving you more time to play! Fill your water balloon battles with a spark of color with the brightest, most vibrant water balloons ever! Neon Bunch O Balloons

NEW NEON COLORS: Unleash the brightest summer yet with Bunch O Balloons Neon Splash water balloons! Each stem is coordinated with the neon color of the water balloon, for maximum vibrancy in your next water battle. Our all new bright neon colors bring the perfect summer aesthetic for a pop of fun, fill them up, watch them fly and splash into a bright summer

SUSTAINABILITY: Bunch O Balloons stems and caps are now made from certified and traceable, recycled plastic. The balloon pieces are made from 'natural rubber', a material derived from plants! Join us in unleashing a more sustainable summer.

PACKAGE INCLUDES: 10 x Bunches (350 Water Balloons!
This post contains affiliate links.