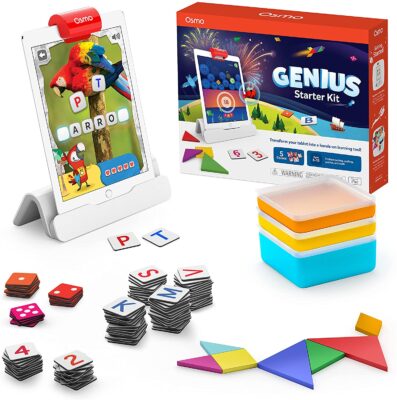 Looking for a new way of inspiring learning for your kids this summer? Save on Osmo Kits & Games today! A great entry to the Osmo universe, the Genius Starter Kit for iPad includes everything your child needs to experience – hands-on learning and digital fun in five different ways through 5 games. We know kids learn by doing, so each game uses physical action. Whether it's arranging tangrams, zooming number tiles around, over 150 word puzzles to discover, freehand drawing, or physics meets creative problem solving (Tangrams, Numbers, Words, Masterpiece & Newton Games), Osmo sees and reacts to every real-live move. Osmo games bring a child's creative imagination to life with hand held pieces that interact with an iPad and an Osmo Base (No WiFi necessary for game play). The Genius Starter Kit for iPad ships with an Osmo iPad Base. Approved by parents and teachers worldwide, used in over 31, 000 classrooms. Click here for the Osmo – Genius Starter Kit, Ages 6-10 – Math, Spelling, Creativity & More – STEM Toy Educational Learning Games (Osmo Base Included), only $69.99.
OSMO IS MAGIC: Fun-filled & award winning learning games. Children interact with actual hand held pieces & an iPad, bringing a child's game pieces & actions to life (No WiFi necessary for game play). An Osmo Base is included, an iPad is not included, both are required for game play.

TEACHING: Arrange puzzle pieces to match on-screen shapes (Tangram), solve creative physics puzzles by drawing lines or placing items in front of the screen (Newton), learn to draw anything with creative drawing skills (Masterpiece), add, count & multiply tiles to pop the number bubbles (Numbers), learn spelling & vocabulary with on-screen images (Words).

SKILLS LEARNED: Visual problem-solving skills, puzzles, math, freehand drawing, gain listening skills, learn physics & improve spelling & vocabulary. Osmo sees and reacts to every real-life move. Geared towards children & love of learning.

AGE & CAPABILITY: Ages 6-10+. Games are designed for beginner to expert levels. Osmo enables the continuation of learning. Real-time audio and visual feedback lets children learn through experimentation in a stress-free environment.

WHAT'S IN THE BOX: Osmo Base & Reflector for iPad, Tangram pieces, Numbers tiles, Words tiles, Stackable storage for each game & 5 Game Apps: Numbers, Tangram, Words, Newton, and Masterpiece.

COMPATIBILITY FOR IPAD: All iPads except Generation 1, iPad Air 4, iPad Pro 11-inch and iPad Pro 12.9-inch. The minimum iOS version needed is iOS 10.
This post contains affiliate links.