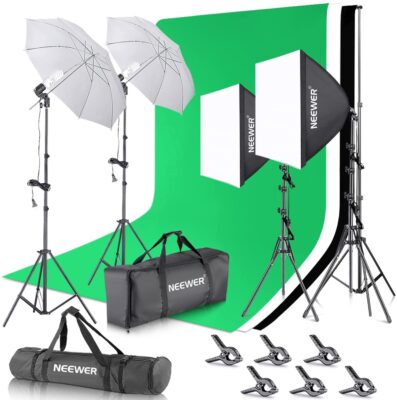 Everything you need to take amazing photos is right here at a great price! Today only, score this NEEWER 2.6m x 3m / 8.5ft x 10ft Background Support System and 800W 5500K Umbrellas Softbox Continuous Lighting Kit for Photo Studio Product,Portrait and Video Shoot Photography for only $167.99. You can also save on everything else you could ever need for taking great photos with today's deal on Neewer Home Studio Camera Accessories!
The Kit Includes: (4) 7ft / 200cm Light Stands, (2) Single Head Light Holders, (4) 45W CFL Daylight Bulbs, (2) 33″ / 84cm Umbrellas, (2) 24" x 24″ / 60cm x 60cm Softboxes, (3) 1.8m x 2.8m/6ft x 9ft Polyester Backdrops (Black, White, and Green), (6) Backdrop Clamps, (1) 2.6m x 3m / 8.5ft x 10ft Background Stand Support System, (1) Carry Bag for Background Support System, and (1) Carry Bag for Continuous Lighting Kit

The 79″ (7ft ) / 200cm Light Stands are stable and capable of heavy duty work. Designed with 3-section telescopic legs and single action locks for quick height adjustment. Includes 2 Single Head Light Holders allowing you to attach a light bulb and umbrella to each stand.

The 33″ / 84cm White Translucent Umbrellas can soften and broaden the light output of any studio light or flash source. The kit comes with (4) 45W Daylight Studio Light Bulbs equal to 200W of regular incandescent lighting with 5500K color temperature. Ideal for photography lighting.

The 24″ x 24″ / 60cm x 60cm Softboxes effectively diffuse the light to give you even illumination for the best shots possible. Equipped with a E26 light bulb socket, you can connect a light bulb directly to each softbox, or use them with other lights or flashes.
This post contains affiliate links.