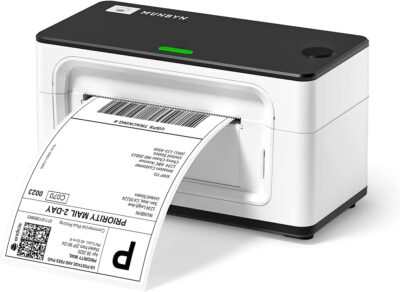 Click here to save on MUNBYN Shipping Label Printer!
How convenient is this? Get the MUNBYN Shipping Label Printer, 4×6 Label Printer for Shipping Packages, USB Thermal Printer for Shipping Labels Home Small Business, with Software for Instant Conversion from 8×11 to 4×6 Labels for only$139.18. 
[One minute to set up, Money and Time Saver] We made it – Chrome print now! 203DPI Thermal Label Printer Easy work with All Windows and Mac OS and Chrome OS. Use MUNBYN Printer Extension on chrome store to connect with the printer and get it to print. MUNBYN Shipping label printer installs and works like a regular thermal printer that can create customized labels directly from any application.

[Easy Learning Labels] MUNBYN 4×6 label printer Auto Analyze and learn your label, bringing more convenience to your business. Suitable for Most Thermal Direct Label -including Warehouse labels, Shipping labels, Food Nutrition Labels, Amazon FBA Labels, UPS, USPS, etc.

[Multi-Compatibility] MUNBYN thermal label printer compatible with all major shipping and sales platforms Labeling like Etsy, Shopify, eBay, Amazon, Poshmark, FedEx, ShipStation, ShippingEasy, Shippo, Ordoro, Endicia Dazzle, Shipwire, Shipworks, Stockx, Xps ship, etc.

[Automatic Label Identification] Close the lid and insert the paper from the back of the printer, MUNBYN Postage label printer will automatically catch the label and feed it into the printer. This address label maker Support prints labels from 1.57″ to 4.3″ wide, suitable for shipping labels and warehouse labels.

[Environmentally MUNBYN Printer] 150mm/s High-speed Printing Speed – Use by Japanese ROHM printer head, Green Friendly Mailing Label Printer, No need of any Cartridges or ink. MUNBYN Provides free lifetime customer support and product protection for any product issues via live chat, phone calls, and emails, even remote-desktop operations support as you need.
This post contains affiliate links.