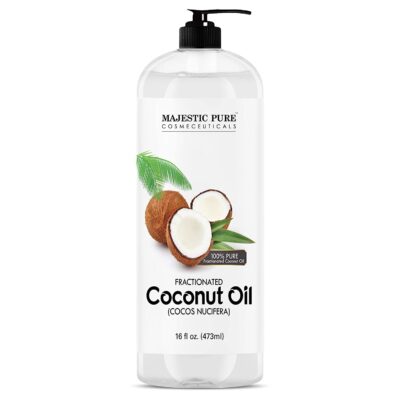 Save on Majestic Pure Beauty Products!
This liquid form of coconut oil has skin benefits. It has high concentration of capric acid and caprylic acid, which give it an amazing amount of antioxidant properties. It's an excellent moisturizer and is fantastic for soothing skin rashes, irritations and inflammation. It's also known to help fight acne. Fractionated coconut oil is superb for soothing chapped lips, and skin conditions like eczema and psoriasis. It has a longer shelf life, is more stable and generally less is needed compared to the other types of coconut oil. Unlike normal coconut oil, fractionated coconut oil remains in a liquid state even at low temperatures. Get this MAJESTIC PURE Fractionated Coconut Oil – Relaxing Massage Oil, Liquid Carrier Oil for Diluting Essential Oils – Skin, Lip, Body & Hair Oil Moisturizer & Softener – 16 fl oz for only $12.75. 
Premium Quality Fractionated Coconut Oil – It is a fraction of the coconut oil from which almost all the long chain triglycerides are removed, thus leaving mainly the medium chain triglycerides and making it a great MCT oil. It is odorless, clear to yellow tint and No greasy feelings, does not stain and easily washes out of clothing and sheets. Does not become solid like regular coconut oil but keeps all the great properties. It has very long shelf life

Other Uses: Coconut oil one of the most versatile oils. It's used as moisturizer, in recipes for tooth paste, as lip balm and in coconut shampoo. It's also used as a natural deodorant, for face wash, as hair conditioner, as eye makeup remover, as shaving cream, in sunburn remedies, for massage, aromatherapy and many other household uses and benefits

Safety Warning: For external use only. Rub a very small amount on the inside of your elbow area to test for any allergic reaction before use. Avoid contact with eyes, keep out of the reach of children. If pregnant, consult with your health care provider before use

Fractionated Coconut Oil is also a great carrier for blending with essential oils. It can be mixed with other more expensive carrier oils. It's excellent as a massage oil and used in aromatherapy recipes

Guarantee – Purchase risk free today with complete peace of mind, if you are not completely satisfied with Majestic Pure Fractionated Coconut Oil, contact us within 60 days and we will refund your entire purchase
This post contains affiliate links.