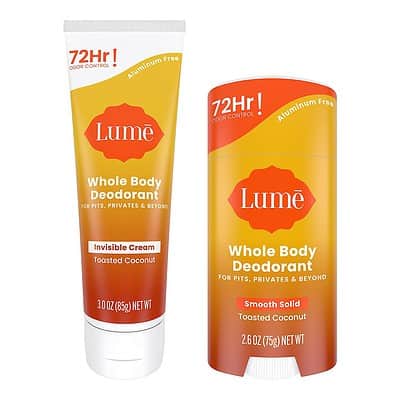 Click here to save on Lume Deodorant!
I have been super pleased with my results using Lume for the last 6 months or so! I definitely recommend it and coconut is my favorite scent so far. Get this Lume Whole Body Deodorant – Cream Tube and Solid Stick – 72 Hour Odor Control – Aluminum Free, Baking Soda Free and Skin Safe – Travel Tube + Solid Stick Bundle (Toasted Coconut) for $24.78. 
SMELL BETTER EVERYWHERE – Odor control for pits, privates and beyond—think feet, underboob, belly buttons, tummy folds, butt cracks, thigh creases or anywhere else you have odor but wish you didn't.

OUTRAGEOUSLY EFFECTIVE – Lume is clinically proven to block body odor all day and continues to control odor for 72 hours.

POWERED BY SCIENCE – Rather than covering up odor after it forms, our formula is pH optimized to block odor before it starts. You could even call us a PREodorant! Traditional deodorants simply mask or neutralize odor after it forms.

SERIOUSLY SAFE – Doctor developed and safe for any external use. Aluminum free, baking soda free, and paraben free. Hypoallergenic and skin safe for even our most sensitive parts.

TOASTED COCONUT (1) 2.6 oz. solid stick and (1) 3 oz. tube (Toasted Coconut). Add a splash of vanilla to the inviting scent of toasted coconut, and you've got the perfect recipe for a delicious day.
Remember, Amazon prices can change at any time.
This post contains affiliate links.