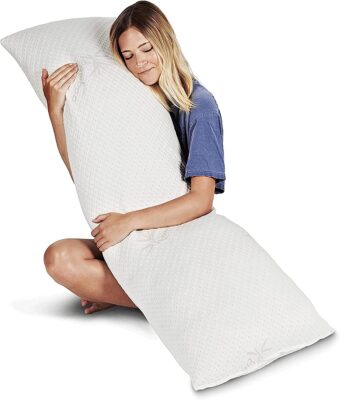 Save on Long Body Pillows from Snuggle-Pedic!
When hugging a body pillow, your body evenly distributes its weight which helps support alignment of your spine and relieve discomfort. Body pillows provide pressure relief by offering support that removes pressure from your arms, hips, knees and spine. Our body pillow conforms to your body shape and contour, helping to keep you in a comfortable sleep position and give you a restful night of sleep without tossing and turning. Get this Snuggle-Pedic Long Body Pillow for Adults – Big 20×54 Pregnancy Pillows w/ Shredded Memory Foam & Bamboo Cooling Pillow Cover – Cuddle Pillow for Bed, Firm Maternity Side Sleeper Pillow Insert to Hug for only $47.99 today!
SOFT MEMORY FOAM – Our body pillows for adults use shredded foam to keep you supported, no matter what side you sleep on. It conforms to your body shape, promoting alignment for your legs, back, and hips.

OEKO-TEX & CertiPUR-US CERTIFIED – Rest easy knowing this long body pillow is put under strict third-party lab testing and is OEKO-TEX and Certi-PUR US certified to ensure safety, quality, and comfortability.

CHIROPRACTOR DESIGNED – Sleep tight and melt the stress away with a big pillow that's been developed by a chiropractor for pain-free nights.

KOOL-FLOW TECH – This cooling body pillow isn't all talk! The fabric on its luxurious, extra-breathable cover will keep you cool on even the hottest nights.

USA MADE – Get the support you need, without the guilt. Our long pillows for sleeping are super durable, built for everyone, and best of all, made in the USA!
This post contains affiliate links.