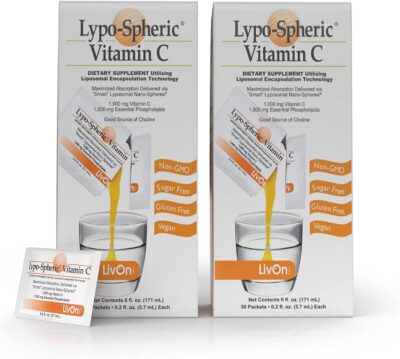 Vitamin C is one of our best bets for immune health, so the easier to stock up, the better! Today only, Save on LivOn Laboratories Vitamin C. As a dietary supplement, take one packet 1-2 times per day, or as directed by your healthcare practitioner. For best results, snip or tear the notched end off the packet, squeeze into 1-2 oz of your favorite cool beverage and drink in one gulp on an empty stomach. The product will not dissolve in liquid. We do not recommend mixing the product with a hot beverage or with any high-speed blenders or food processors.
Utilizes a revolutionary method of enhanced Vitamin C delivery – Liposomal Encapsulation Technology – designed to help your body absorb more Vitamin C.

Vitamin C is a powerful antioxidant that can help protect cells from the damage caused by harmful free radicals.

Perfect Vitamin C support to help maintain a healthy immune system. Can assist with muscle repair for those with active lifestyles.

Vitamin C supports collagen production for healthier, firmer skin.

Vegan, Non GMO. Formula contains NO: Gluten, Dairy, Sugar, or Hexane. Zone/Paleo Diet Friendly
This post contains affiliate links.