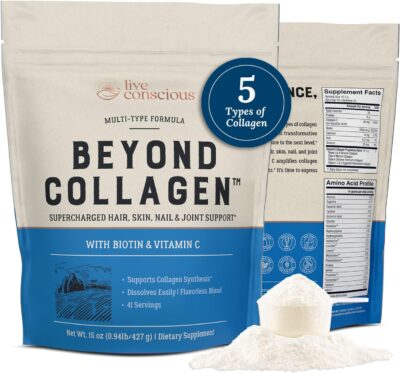 Save on LiveConscious Collagen, Magnesium, and more supplements.
Collagen production in the body naturally starts to decline as we age, so it is a good idea to supplement with extra collagen to help maintain healthy joints, skin, hair, and nails.* The recommended dosage for Live Conscious Collagen Peptides is 11 grams (about 2 ½ teaspoons). A scoop is included in the bag to help you measure the right amount. Snag this Beyond Collagen Multi Collagen Powder for Women w/ Types I, II, III, V & X – Keto Friendly, Hydrolyzed Collagen Peptides Powder Blend w/ Biotin & Vitamin C – Live Conscious – 41 Servings for only $31.49!
HEALTHY SKIN, HAIR & NAIL SUPPORT: Live Conscious Beyond Collagen Powder offers 5 different types of collagen, plus biotin and vitamin C, in a convenient collagen supplement for women and men. By approaching healthy skin, hair, and nail support from 5 angles, you can promote your body's collagen levels, help you more efficiently use the collagen you have, and support the body's natural collagen production.*

5 TYPES IN ONE: Beyond Collagen powder feature 5 types of collagen hydrolysate (I, II, III, V, & X) in order to provide maximum benefits. These collagen types can help reduce occasional joint discomfort as well as provide benefits to your appearance. Plus, when joints feel more flexible, it's easier to maintain an active lifestyle.*

AGE GRACEFULLY: Collagen can help add a more youthful look to your appearance by helping reduce the appearance of aging and providing support to overall well-being.*

PREMIUM INGREDIENTS: For best results, we use only high-quality ingredients, including grass-fed bovine, chicken, and eggshell sources, to create a collagen supplement formula that offers 5 important types of collagen.

WITH BIOTIN AND VITAMIN C: Biotin, also called vitamin H, (for hair) is an important part of maintaining the infrastructure of the body's keratin, the protein that comprises hair and nails. Vitamin C is an important part of the body's ability to support tissues.
This post contains affiliate links.