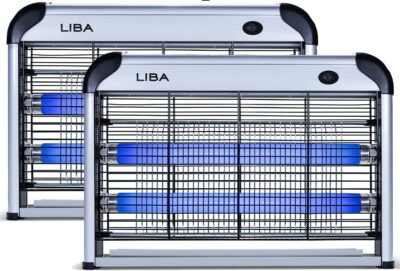 If you are like me, bugs can drive you absolutely crazy and they seem to be impossible to get rid of! This LiBa Electric Bug Zapper (2-Pack) Indoor Insect Killer – (4) Extra Replacement Bulbs – Fly, Mosquito Killer and Repellent – Lightweight, Powerful 2800V Grid, Easy-to-Clean, Removable Washable Tray for $59.99 has excellent reviews! If you want to eliminate mosquitos, moths, flies, and biting insects, LiBA is the way to go! 
INDOOR BUG ZAPPER: This bug zapper attracts all kinds of flying bugs and eliminates them from your home. The lights naturally attract flies, mosquitoes, and any other flying bugs that bother you, and your family. Two lightbulbs attract and instantly zap anything flying through it.

SAFETY: The Liba bug zapper comes with a safety screen to prevent from small fingers getting inside the device. Two replacement bulbs are included with every bug zapper in case a replacement is needed. Each bug zapper has an easy on and off switch at the top right and a five-foot cord for convenience and distance.

NO CHEMICALS: This bug zapper contains no kinds of chemicals and simply functions from two lightbulbs designed to attract bugs. Get rid of smelly, nasty sprays and use a high voltage bug zapper to kee your home free of bugs. This is a great alternative for indoor bug zapping. Each bug zapper has a removeable tray for easy cleaning of the zapped bugs.

EASY SETUP: Each bug zapper comes with a chain so you can hang it anywhere on a hook or place it atop any countertop, table, or even the floor in problem areas. Typically, hang it high as that is where the bugs hangout. Safe and secure to use in hospitals, workplace areas, commercial spaces, restaurants, kitchens, warehouses and retails stores. Definitely not for outdoor use. These bug zappers are not waterproof or water-resistant.

TWO BONUS LIGHT BULBS: We want your product to last a long time which is why we include an additional two free replacement bulbs. Once the two you have, have burned out, swamp them out immediatley with two new ones. Simply unplug the unit, wait a few hours to ensure the electrical current and heat from the bulb has subsided, and swap them out.
This post contains affiliate links.