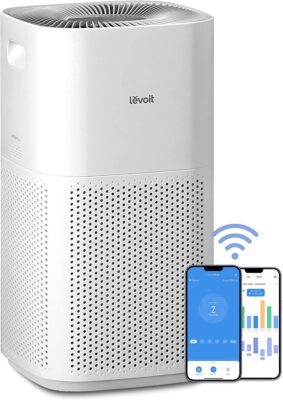 Click here to Save on LEVOIT Air Purifiers!
Levoit's most powerful unit in 2022 – The Core 600S is ideal for ultra-large, open-concept spaces including living rooms, lofts, apartments, offices, kitchens, basements and more!  – cleans 1588 SqFt every 30 minutes. AirSightPlus technology scans the surrounding air for airborne particles as small as 0.3um, this air purifier focuses on real-time home conditions – this is more than just having an air purifier! Levoit engineers designed the airpurifier's exclusive light sensor to detect the amount of light in the room toautomatically adjust air purifier settings – Set it & Forget it. Get this LEVOIT Air Purifiers for Home Large Room, Covers up to 3175 Sq. Ft, Smart WiFi and PM2.5 Monitor, H13 True HEPA Filter Removes 99.97% of Particles, Pet Allergies, Smoke, Dust, Auto Mode, Alexa Control for only $209.99!
LEVOIT'S MOST POWERFUL AIR PURIFIER: A juggernaut at purifying your air in any room. It scans the tiny contaminants and uses enhanced technology to keep your air cleaner than ever, an easy solution for whole house purification

TESTED CADR FOR ULTRA-LARGE ROOMS: VortexAir Technology 3.0 enables the Core 600S to improve indoor air circulation and purify 635 ft² in 12 minutes or up to 3,175 ft² spaces in 60 minutes (CADR: 410 CFM / 697 m³/h). It's great for open floor plans and high-ceiling houses

H13 TRUE HEPA FILTRATION: 3-stage filtration, including an H13 True HEPA Filter with HEPASmart Technology, achieves a better purification effect than common HEPA filters of lower quality, capturing at least 99.97% of airborne particles 0.3 microns in size

Genuine Levoit Filters: Only use genuine Levoit replacement parts to maintain the best performance (Search for Core 600S-RF or B09MK89TXN). Off-brand filters are inconsistent, unreliable, and may damage the air purifier

QUIET DAYS, PEACEFUL NIGHTS: QuietKEAP Technology provides maximum filtration with minimal noise levels as low as 26dB to maximum 55dB. The Light Sensor turns off display lights when it detects darkness, so you can always sleep soundly

SENSITIVE AUTO MODE: Levoit's exclusive AirSight Plus Technology is twice as accurate as an infrared laser, detecting particles down to 0.3 microns in size. Turn on Auto Mode and the air purifier will automatically adjust the fan speed setting for you and update the display to keep you informed

SMART AND VOICE CONTROL: Fully control the Core 600S and monitor your air quality with just a tap in the free VeSync app. Through VeSync, you can connect to Amazon Alexa or Google Assistant and give the air purifier voice commands while your hands are full—just say the word
This post contains affiliate links.