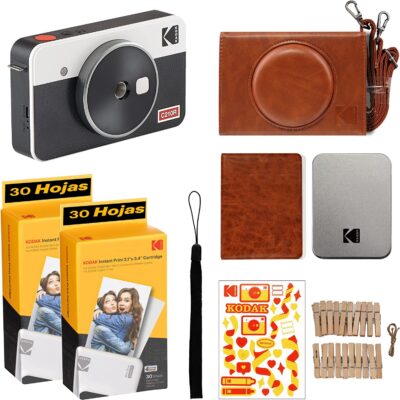 Click here to save on KODAK Photo Printer and Instant Cameras!
Here's a fun gift idea! Grab this KODAK Mini Shot 2 Retro 4PASS 2-in-1 Instant Camera and Photo Printer (2.1×3.4) + 68 Sheets Gift Bundle, White for only $129.99. 
Instant Camera + Photo Printer: The Kodak Mini Shot 2 Retro is a digital camera with a built-in photo printer, so you can print your images or cancel them after you have taken them. With this instant camera, you can also print 3×3″ photos directly from the gallery of your mobile device via Bluetooth. Kodak Mini Shot 3 Retro is compatible with Apple iPhone, iPad & Android devices.

Low Photo Cost: Why pay more to print? Printing has never been easier with our Kodak Mini Shot 2 Retro instant print camera. Photos are even half the cost if purchased in an instant film camera bundle!

Superior Photo Quality: The Kodak Mini Shot 3 Retro utilizes 4PASS technology, which allows you to print flawless photos in just a few seconds. As the photos are printed on layers of color and laminated, they are protected against fingerprints and water. Photos last over a 100 years!

Two Photo Types: It is possible to print both bordered and borderless pictures with the Kodak Mini Shot 2 Retro photo printer. With this instant camera, you can create lasting memories by writing down your memories in the border type. You can print the borderless type of photo if you want to have them in a larger size.

Augmented Reality App: Download the KODAK Photo Printer application and print from anywhere at any time. With fun augmented reality features and other decorative features such as beauty, filters, frames, and more, you can use the app to express your photos. Our app and instant photo camera will do the rest of the work for you!
This post contains affiliate links.