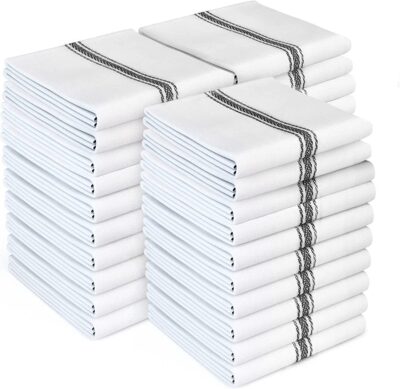 Save on Kitchen Towels from Zeppoli & More!
Who needs more dishtowels? Today's a great day to stock up and save! Get this Zeppoli Classic Kitchen Towels 30-Pack – 100% Cotton Dish Towels – Reusable Cleaning Cloths – Black Towels – Super Absorbent – Machine Washable Hand Towels – 14" x 25" (Black Striped) for $27.19. 
Long-Lasting Material – These 100% Natural Cotton Dish Towels for kitchen are built to last long with strong, durable fibers and won't scratch your fine silverware, plates or pans. These dish cloth sets have been through countless hours of testing.

Ultra Absorbent – With a unique Herringbone weave, these dish towels for kitchen drying are lightweight, super absorbent and dry quickly. The Classic Kitchen Linen Sets are Lint-Free unlike other kitchen dish towels and absorb fluids quickly.

Value Pack – 30-pack Blue Dish Towels for kitchen, you have plenty of towels at hand for cooking and cleaning needs in restaurants, kitchens, dinner tables, or anywhere! With a convenient size of 14 x 25″ anyone can handle these kitchen linen sets.

Trouble-Free Care – Machine washable and dry-able. Manufactured to minimize lint and resist any shrinkage. You can use these towels over and over again, saving money on paper towels. The Zeppoli Classic Kitchen Towels come sealed in a Polybag.

Best Bang For Your Buck: We Know You're Going To Love Our Hand Towels for kitchen As Much As We Do! Easily the best value kitchen towels one can buy. Learn more about Zeppoli, our offerings, and our growing brand by searching for us.
This post contains affiliate links.