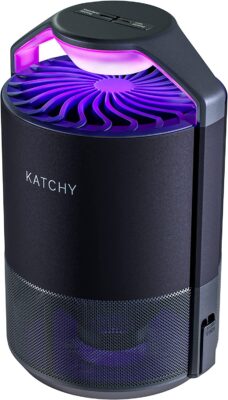 At KATCHY, our mission is to make your home or business a no-fly zone. To do that, we combine stylish design with safe, bug-eliminating science. From the original Katchy Manual to our all-new Katchy Duo, every product is thoughtfully designed to kill bugs without cluttering your countertops. Click here to Save on Katchy Premium Indoor Fruit Fly, Mosquito, and Gnat Trap!
Triple trapping power, first the UV light attracts the bug then the fan sucks it in and the sticky glue boards trap it. No Zapper.

Subtle and stylish fruit fly, gnat and mosquito killer, no more ugly traps, easily place in your home, kitchen or office as a decorative, stylish piece.

Trap indoors, close to insect-ridden fruit, plants or trash bin, turn off lights for best results.

Not effective on house flies.

Easy to use, choose between standard or low speed setting and leave it to work its magic, EPA Est. Numb.:93372-CHN-1
This post contains affiliate links.