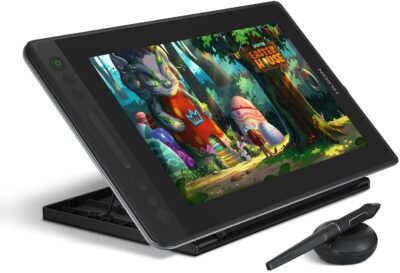 If you are an artist this is the technology for you! Today, click here to save on HUION Graphics Drawing Tablets. Meet all your needs for every subject with online tutoring softwars: Power Point, Wrod, OneNote, PDF… Let's work more efficiently. Use Huion for for online conference purpose,Web Conferencing, Webinars and Screen Sharing. Get this Huion KAMVAS Pro 13 GT-133 Graphics Drawing Monitor Pen Display with Stand Tilt Function Battery-Free Stylus 8192 Pen Pressure – 13.3 in, Compatible with Chromebook, Windows and Mac for only $209.30!
Tilt Function Battery-free Stylus – Comes with 8192 levels of pen pressure, PW507 battery-free pen provides a more accurate and natural drawing experience; Plus with ±60 degrees of natural tilt recognition, you will have much more fun when drawing. (An adjustable stand is included)

4 Press Keys and 1 Touch Bar – With 13.3 Inches IPS screen, not only save your time but also enhance your productivity; The weight of Kamvas Pro 13 is about 1KG and 11mm of thickness, only a little thicker than a mobile phone; Put the monitor to your favorite angle with the Multi-Angle Adjustable Stand.

120% sRGB Color Gamut – Comes with 266 PPS Report Rate, you can have better performance and quicker response when working on the pen display; The drawing monitor cannot only provide users with a wider field of view, but also offering richer colors and more natural transition.

Full-laminated Anti-glare Glass – Thanks to the full-laminated screen technology, the stroke you drew is accurate and natural, and almost without offset; Besides, the screen surface is covered with anti-glare glass, effectively reducing the "glare" effect and providing better protection for your eyesight.

Chromebook Compatibility – HUION drawing monitor tablet is compatible with Windows 7 or later and Mac OS 10.12 or later, Chromebook (ChromeOS 88 and above) ,It is also compatible with mainstream software like Adobe Photoshop, Clip Studio, Paint Tool Sai and more;Online Teaching and Working – Meet all your needs for every subject with online tutoring softwares: Power Point, Wrod, OneNote, PDF… Use Huion drawing monitor for for online conference purpose,Web Conferencing and Screen Sharing.
This post contains affiliate links.