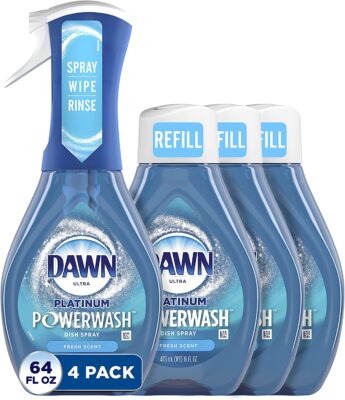 Save on Household Cleaners and Laundry Supplies from Febreze, Dawn, and more!
Dawn Platinum Powerwash Dish Spray, Dish Soap is the faster, easier way to clean as you go. The spray activated suds cut through grease on contact, without water for 5x Faster* Grease Cleaning (*vs Dawn Non-Concentrated). Just Spray, Wipe, and Rinse to stay ahead of the mess and get done faster. Dawn Powerwash is great for all your dishes with its unique spray technology even your hard to reach items, like blenders and baby bottles, are easy to clean. Just, Spray, Wipe, and Rinse. For tough messes, allow the suds to sit for a few minutes than just wipe and rinse away all the grease and suds. Bundle pack includes (1) Spray + (3) Refills. Get this Dawn Platinum Powerwash Dish Spray, Dish Soap, Fresh Scent Bundle, 1 Spray (16oz) + 3 Refills (16oz each)(Pack of 4) for only $12.25!
Dawn Powerwash Spray gets dishes done faster in 3 easy steps: just spray, wipe, and rinse to cut through grease 5x faster (vs Dawn Dish Soap Non-Concentrated)

Fully squeeze trigger and allow the innovative nozzle to continuously spray directly on dishes, suds will activate instantly on contact without water

For heavily soiled dishes allow the suds to sit for a few minutes to allow the Dawn Platinum Powerwash Spray to break down and lift away soils

Skip the dish scrubber and start cleaning dishes with our dynamite degreaser dish spray, your new favorite household cleaning supplies

Also works great as a greasy tool & wheel cleaner, stainless steel cleaner, and more.

Designed with a reusable sprayer to help reduce waste, just remove the white cap and replace with reusable sprayer
Remember, Amazon prices can change at any time.
This post contains affiliate links.